How will the Supreme Court's Decision impact the cost of your health care insurance and/or your taxes? On Tuesday evening, September 25, 2012, Thom Lambert addressed these and other questions as he took us through the very detailed decision of the U.S. Supreme Court this past June 28, 2012 regarding the Patient Protection and Affordable Care Act.
Download Presentation Slides (PDF).
View event video >>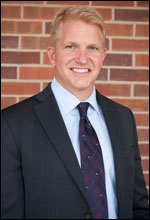 Thomas A. Lambert, '93 alumnus, is Associate Professor at the University of Missouri—Columbia School of Law. Thom attended the University of Chicago Law School, where he was a Bradley Fellow and served as Comment Editor of the Law Review. While at the University of Chicago, Thom studied under current U.S. President Barack Obama. After graduating with honors in 1998, he clerked for Judge Jerry E. Smith of the U.S. Court of Appeals for the Fifth Circuit and spent a year as the John M. Olin Fellow at Northwestern University Law School.