How three Wheaton graduate school alumni are transforming neglected communities in Africa through the gospel.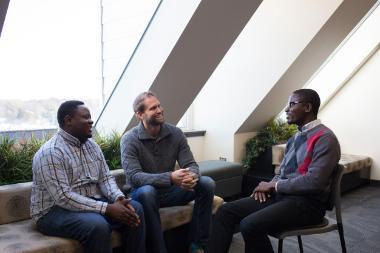 Emmanuel Ndolimana's first birthday party changed his life. He was 32.
Ndolimana, who was pursuing his master's in systematic theology at the Wheaton College Graduate School, hadn't grown up with the tradition of a birthday celebration in his home country of Rwanda.
But when friends held a gathering in Ndolimana's honor in 2013, a conversation about his plans to return to Rwanda after graduation to train his fellow pastors eventually led to meeting David Snyder, executive director of Sustainable Medical Missions, a Cincinnati-based ministry serving the church in Africa and Asia.
At the time, SMM's ministry in Africa was expanding. Snyder, himself a graduate of Wheaton's graduate school, was looking for new staffers. He hired Ndolimana as Africa director, and Ndolimana encouraged fellow Wheaton graduate Sam Boateng, a Ghanaian, to come on as West Africa director.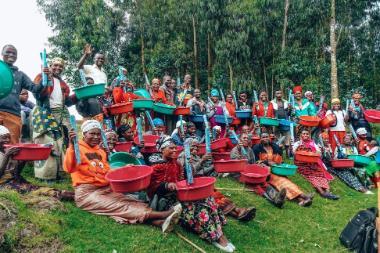 Like Ndolimana, Boateng came to Wheaton as a Billy Graham Scholar. The men developed a strong personal connection, despite growing up on different parts of the continent—Ndolimana is from east central Africa, and Boateng is from the west.
"Wheaton College has served as a hub for relationships and partnerships for kingdom advancement," Ndolimana says.
At SMM, Snyder, Boateng and Ndolimana seek to transform local communities by working to treat and eliminate Neglected Tropical Diseases, or NTDs.
NTDs affect more than a billion people worldwide through ways including parasitic and bacterial infections like intestinal worms, jiggers, and dengue fever. The diseases are disabling but are preventable and curable. According to Boateng, NTDs affect more than 90 percent of the people in the communities SMM serves.
"We're dealing not only with neglected diseases, but with neglected people," says Ndolimana.
"Our work is not only to proclaim the gospel, but to demonstrate the gospel, and to mobilize churches to do the same," Boateng adds. The staff networks with local pastors who are trusted by traditional leaders, government officials, and even local Islamic leaders.
"If you are a pastor in my part of the world, you are by default a community leader," Boateng says. "They expect you to lead the way and bring change."
Through its relationships with pastors, SMM connects communities with physicians, community health nurses, medics and others who can provide drugs and other health care. The team emphasizes the importance of empowering pastors to develop simple, evidence-based plans that are based on their unique contexts.
"We train pastors to identify the challenge in their own communities," Ndolimana says. "It's not one-size fits all—every community has to contextualize what fits for them."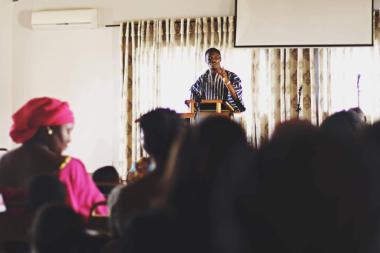 Snyder, who graduated from Wheaton with an M.A. in clinical psychology, says the training is designed not only to help pastors with an immediate issue, but also to equip them with a knowledge base of strategies that can be adapted to address future concerns.
"In these communities, there are a multitude of issues," he says. "The nature of life, and the nature of medicine is that even if you're successful in reducing the rate of intestinal worms from 97 percent to zero, something else will occur. We need to equip communities for that next thing."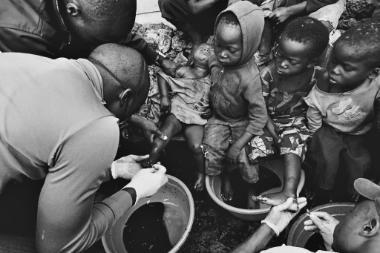 The strategy of working with pastors to develop sustainable, community-specific solutions has been successful. Over the last six years, SMM has trained 12,000 leaders in 16 countries as well as annually supporting more than 50 project sites that have educated and healed over 1.4 million people.
"God has done what financially and logistically should be impossible," Snyder says. "People are seeing that the church is, in a substantial, tangible way, the active engine by which lives change, and help and hope is being manifested in their communities."--LaTonya Taylor
Learn more about Wheaton College's M.A. in Theology here.