After Wheaton faculty members Dr. Susan Dunn-Hensley and Sharenda Barlar discovered a mutual interest in religious pilgrimage tradition, they started collaborating and were recently granted the prestigious George Greenia Fellowship in Pilgrimage Studies.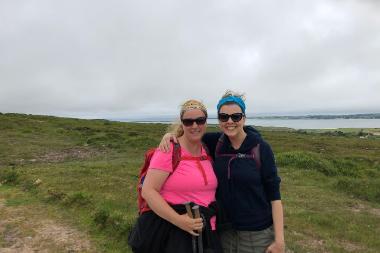 Dr. Susan Dunn-Hensley and Sharenda Barlar have a lot in common. They're both Wheaton College professors, they're both published in peer-reviewed journals and have lectured at various academic symposia and conferences. But one of their most unique similarities is their interest in the history and recent resurgence of religious pilgrimages, an area of academic research each was pursuing independently for years before discovering their mutual interest at a 2016 faculty seminar.
"We were sitting next to each other and started talking about our academic research, and it was one of those things where we stopped and said, 'Wait, you do pilgrimage, too?'" Dunn-Hensley said.
Almost immediately—Barlar, who focuses on the Camino de Santiago in Spain, and Dunn-Hensley, who centers her research on the Shrine of Our Lady of Walsingham in England—started planning to collaborate on a research project on pilgrimage, defined as a journey to a sacred space as an act of religious devotion or duty.
Since then, they've presented together in places as far-flung as Beijing, Sydney, Dublin, and Leeds—and most recently at the College of William & Mary in Williamsburg, Virginia as part of the Annual Symposium for Pilgrimage Studies, where they were also awarded the George Greenia Fellowship in Pilgrimage Studies.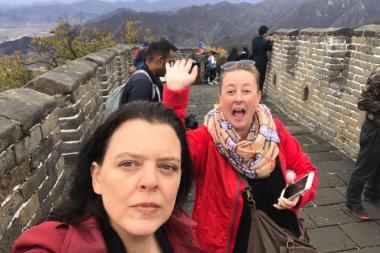 "The Pilgrimage Symposium at William & Mary is the only pilgrimage conference in the United States, so there are amazing scholars attending," Barlar said. "The people who have received this award in the past are incredible. We are so honored to receive it."
Past recipients of the fellowship, which has been given since 2015, include scholars from the University of Oxford in England, FernUniversität in Germany, and the University of Santiago de Compostela in Spain.
The fellowship will help fund Dunn-Hensley and Barlar's research this summer in England, which they will use in their forthcoming book project, tentatively titled Return of the Pilgrim: Sacred Networks in Spain and the British Isles. This book will blend a historical analysis of the medieval pilgrimage networks that connected Spain and the British Isles with their resurgence in the twentieth and twenty-first centuries, as well as modern-day restoration efforts.
With this project, Barlar and Dunn-Hensley are focusing on the Santiago de Compostela and The Shrine to Our Lady of Walsingham pilgrimage routes, which were popular in the medieval period but died during the Reformation in England and at the end of the Spanish Golden Age. Against all odds, Barlar and Dunn-Hensley said the pilgrimage routes experienced a comeback of sorts in the early twentieth century. Today, the Shrine to Our Lady of Walsingham sees 300,000 visitors each year, and the Camino de Santiago sees even more pilgrims.
"Today, thousands of pilgrims walk the Camino and visit the Holy House in Walsingham," Barlar and Dunn-Hensley wrote in their fellowship application. "In an era of rational secularism, what calls people back to the pilgrim roads? How can we foster international networks and spiritual flourishing through the restoration of pilgrim routes?"
With the help of the Greenia Fellowship, Barlar and Dunn-Hensley will walk the Walsingham route from Norfolk to Walsingham and interview pilgrims during the National Youth Pilgrimage, as well as local residents, to discover the answers to these questions and more.--Emily Bratcher
At Wheaton College, students learn under not just excellent teachers, but fully engaged academic researchers. Learn more about Wheaton's top-tier faculty here.