The new partnership allows students to graduate in five years with a master's degree in nursing from a top-ranked program.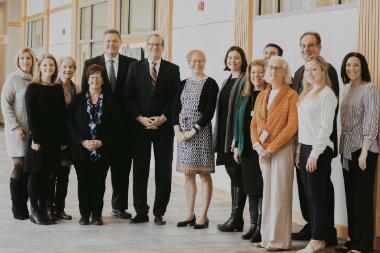 Starting in fall 2020, students in Wheaton College's Liberal Arts Nursing program will have a unique new option for launching their careers.
Today, Wheaton College and Elmhurst College announced a 3+2 dual-degree nursing program at a ceremony in the Meyer Science Center on the Wheaton College campus. The new program allows students in Wheaton's Liberal Arts Nursing major to graduate in five years with a bachelor's degree from Wheaton and a Master of Science in Nursing from Elmhurst. Additionally, upon completion of the program, graduates will be prepared to take the National Council Licensure Examination (NCLEX), the standardized test required for licensure, as well as the Clinical Nurse Leader certification exam.
For several decades, Wheaton has offered programming with partner institutions to prepare students for the nursing profession. The new partnership with Elmhurst College is unique in that it allows students to remain on Wheaton's campus for four full years. They will then complete the master's degree on Elmhurst's campus.
Elmhurst's nursing program was recently ranked as one of the top 10 in Illinois by nurse.org, and its Master's Entry in Nursing Practice (MENP) program was ranked No. 1 in the nation—out of 2,061 similar programs—for NCLEX pass rates. Newly released NCLEX figures for 2019 report a 100% pass rate for graduates of the MENP program.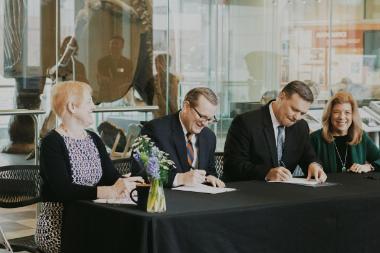 As part of the dual-degree program, Wheaton students will benefit from access to Elmhurst's state-of-the-art Simulation Center, located in the award-winning Elmhurst Hospital. A 4,600-square-foot laboratory and classroom space, the Simulation Center allows students to build their clinical knowledge and skills by simulating intense clinical scenarios in inpatient, outpatient and community settings.

"This opportunity with Elmhurst is wonderful because it allows our students to enjoy continuity of their Wheaton experience, which is a huge win," says Candice Eisenhauer, director of health professions at Wheaton.

"Our students will continue to benefit from the Wheaton liberal arts education, including the Christ at the Core curriculum and its focus on enduring questions—both of which provide an excellent foundation for people who work in the healthcare field," adds Eisenhauer.

Wheaton College Provost Dr. Margaret Diddams says the strength of Elmhurst's nursing faculty and facilities will allow graduates to start their careers with an advantage. "We're proud to offer this experience to our students, and grateful for our partners at Elmhurst College," she says.

"We are thrilled to partner with Wheaton College in making our Master's Entry in Nursing Practice program available to their students," says Diane Salvador, executive director and professor in the Department of Nursing and Health Sciences. "We are confident that Wheaton students are well-prepared to succeed in this academically rigorous program, and we look forward to further innovative collaborations between Wheaton and Elmhurst as we work to educate future nurses and health care providers."

More information about the 3+2 nursing program is available here.--LaTonya Taylor

Request More Information
Apply Today