Wheaton College Billy Graham Center Executive Director Ed Stetzer applies his legendary energy to serving the global church amid the COVID-19 pandemic.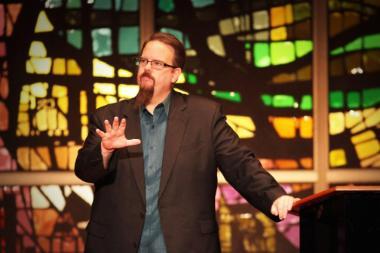 On a normal day, Dr. Ed Stetzer is in constant motion.
Stetzer, whose roles at Wheaton College include executive director of the Wheaton College Billy Graham Center and dean of the School of Mission, Ministry and Leadership at the Wheaton College Graduate School, is known on campus and internationally as a high-energy, multi-platformed visionary who does big things fast.
His bio contains an unusually wide range of verbs: Stetzer authors, co-hosts, convenes, develops and edits. He leads, pastors, plants, preaches, researches, revitalizes, speaks and teaches. To all of these actions, he applies his unique gift for speaking into the cultural needs of the moment in order to serve the global church.
The international turmoil resulting from the novel coronavirus pandemic hasn't slowed him down.
Instead, "Ed is in extreme Ed mode," says Laurie Nichols, director of communications and marketing for the Wheaton College Billy Graham Center. "He reminds his staff that when big challenges happen, we run into them, and we don't give up," Nichols says.
"For 40 years the WCBGC has been on the leading edge of serving the church in mission and evangelism," Stetzer said. "This time is no different. We are facing the largest global crisis since World War II and something that will be talked about for generations to come. I want people to remember how much the church did for their communities and neighbors during this time."
As a result, in recent days Stetzer and his teams have developed a bevy of new projects in support of the BGC's mission to be a world hub of mission and evangelism:
Coronavirusandthechurch.com
Coronavirusandthechurch.com is a clearinghouse of free resources for churches and church leaders.
The site, a partnership with the Humanitarian Disaster Institute at Wheaton College, Rick Warren, and The PEACE Plan, a mission of Saddleback Church, includes sermons, articles, planning manuals, and information from the Centers for Disease Control and Prevention.
Stetzer Leadership Podcast
This podcast is hosted by Stetzer and Daniel Yang, director of the Send Institute, a think tank for evangelism and church planting in North America. The podcast is designed to help leaders navigate the new reality of the coronavirus, and features interviews with academics and church leaders including Wheaton College's Jamie Aten, Terri Watson, Margaret Diddams and Esau McCaulley.
The Exchange
Since late February, Stetzer's blog on Christianity Today's website has focused its content on equipping church leaders to support their congregations in light of the pandemic, featuring information on online resources for sharing the gospel, understanding the new stimulus bill and its effect on churches, leading remote teams and preparing for the ways the crisis will likely evolve.
"Many of us are experiencing emotions on a scale we never have—we are fearful, uncertain, tired, anxious," Stetzer said. "But we are also filled with the power and compassion of the Holy Spirit. Our world is crying out for hope in these days and looking for a foundation which won't be uprooted. Christians are in a time of incredible opportunity to show & share the love of Jesus and I want to see all churches press into this."
For more information on the ministry of the Wheaton College Billy Graham Center, visit billygrahamcenter.org. –LaTonya Taylor