The Humanitarian Disaster Institute joins Food for the Hungry, NavPress and Outreach to present a free Spiritual First Aid Online Summit April 30.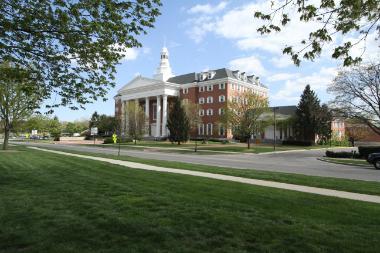 The Humanitarian Disaster Institute (HDI) at Wheaton College will present the Spiritual First Aid Online Summit alongside Food for the Hungry, NavPress and Outreach, Inc. on Friday, April 30. Registration is free at spiritualfirstaidsummit.com.
The Summit will help churches live a message of hope and care for neighbors, churches, communities and the world. Available to access on or after Friday, April 30, the event will include messages from dynamic speakers, offer free tools, and share about catalytic initiatives designed to activate and support churches. Church leaders will hear practical ministry insights they can begin applying immediately.
"As we look ahead at extended shelter-in-place orders and consider how to navigate new phases of response, it's so important that the church step up to lead the way in providing COVID-19 mental health support. This event brings together Christian writers, thinkers, scholars, and pastors to encourage and equip us all as we seek to care for the great spiritual and emotional needs around us," says Dr. Jamie Aten, HDI founder and executive director.
Confirmed speakers include:
Dr. N.T. Wright, One of the world's leading Bible scholars
Danielle Strickland, Spiritual leader, justice advocate, communicator and peacemaker
Dr. Efrem Smith, Author, speaker, and Co-lead Pastor of Bayside Church, Midtown
Pete Scazzero, Bestselling author and Co-founder, Emotionally Healthy Discipleship
Phil Wickham, Singer/songwriter
Ian Morgan Cron, Bestselling author of the popular Enneagram book The Road Back to You
Rev. Dr. Brenda Salter McNeil, Associate Professor of Reconciliation Studies, Seattle Pacific University
Dr. Kara Powell, Executive Director, Fuller Youth Institute; faculty member, Fuller Theological Seminary
Dino Rizzo, Executive Director, Association of Related Churches; Missions and Outreach Pastor, Church of the Highlands
Jimmy and Irene Rollins, Pastors, i5 City in Glen Burnie, Maryland
Craig Springer, Executive Director, Alpha USA
Mike Frost, Author, speaker, missiologist, and agitator
Dr. Jamie Aten, Founder and Executive Director, Humanitarian Disaster Institute at Wheaton College
Kent Annan, M.Div., Director, Humanitarian & Disaster Leadership, Wheaton College
Jenny Hwang, Managing Director, Humanitarian Disaster Institute
Dr. Ward Davis, Associate Professor of Psychology, Wheaton College & Director of Research, Humanitarian Disaster Institute
View a full list of speakers at spiritualfirstaidsummit.com.
Speaker sessions will address topics involving the five core needs the Humanitarian Disaster Institute has identified as critical in the wake of a disaster based on its research:
Belonging Needs (relationships)
Livelihood Needs (health, finances, resources, employment)
Emotional Needs (mental health)
Safety Needs (suicide, harm to self, threat to others, domestic violence)
Spiritual Needs (faith, spiritual struggles, meaning-making, purpose)
HDI's research and newly-released Spiritual First Aid resources, including a free step-by-step manual and online course, can be found at spiritualfirstaidhub.com.
Those who register for the Summit will receive access to a password-protected website with videos that can be viewed at their convenience. Registrants will also receive a free copy of the Humanitarian Disaster Institute's newly-released Spiritual First Aid Manual, a one-year subscription to Outreach Magazine, a free prayer course from N.T. Wright and a promo code for a "Get One, Give One" initiative that is sending The Message of Hope to ministries on the frontline of disaster relief.
Follow the hashtag #SpiritualFirstAid for event information, as well as for resources to help churches provide spiritual, emotional, and practical care in response to COVID-19 and beyond.—Laura Leonard