Wheaton makes three apartment buildings available to first responders during the COVID-19 pandemic.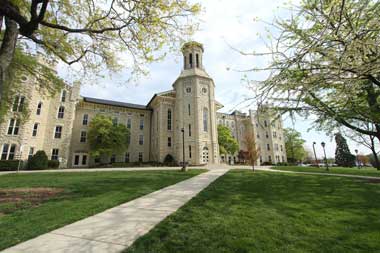 DuPage County and Wheaton College have agreed to provide temporary housing for first responders asked to self-isolate during the COVID-19 response.
Wheaton College will provide the 28 units in its three Saint & Elliot apartment buildings for use by DuPage County police officers, firefighters, and medical personnel who need to self-isolate and protect their families.
The apartments will be available free of charge for any first responders who have been exposed to COVID-19, but do not need hospitalization; have tested positive for COVID-19 and need to be isolated, but do not need hospitalization; and as a precautionary measure for asymptomatic, high-risk individuals.
The units were vacated when the College moved to online learning in March. They are not contiguous with the campus, which will protect Wheaton students and personnel.
"Our first responders are dedicated public servants, putting themselves in potentially dangerous situations daily. We are extremely grateful to Wheaton College for generously providing these rooms so these heroes can rest easy, knowing they are safely isolating from their families," said Chairman Dan Cronin.
"We are glad to partner with DuPage County to care for the needs of community members whose selfless, courageous service to others during this pandemic places them at risk, " said Wheaton College President Philip Ryken. "Sharing our resources in this way allows us to love the community that is home to many of our students, faculty and staff.
The DuPage County Office of Homeland Security and Emergency Management will work with local healthcare organizations, police and fire departments to determine eligibility for the temporary housing. The DuPage County Health Department will provide medical monitoring for first responders temporarily housed in the Wheaton College buildings.
"We are very appreciative of the efforts that have been taken by all of our local partners to ensure that our first responders, who are putting their lives on the line every day, have a place to keep safe and ensure that their families are not being placed at risk," said Wood Dale Police Chief Greg Vesta, President of the DuPage Chiefs of Police Association.
"During these unprecedented times the DuPage County fire service stands ready, equipped and prepared in delivering the vital care and treatment to all of our citizens in need in DuPage County," said Warrenville Fire Protection District Chief Dennis Rogers, President of the DuPage Fire Chiefs Association. "Through the close collaborative partnership with the DuPage County government and Wheaton College it gives our first responders an alternative means to house themselves and recover from COVID-19 without affecting their loved ones at home."
Wheaton College recently made its Terrace Apartments available to first responders. Learn more about the College's response to the COVID-19 pandemic on our COVID-19: Wheaton Responds page.--LaTonya Taylor