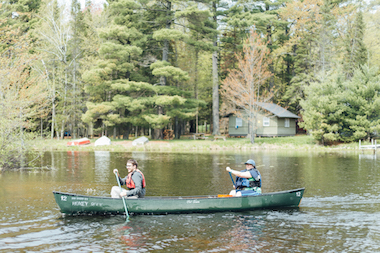 Wheaton College Biology Professor Dr. Nadine Folino Rorem realized she had found her "sweet spot" as a professor while teaching a class called Environmental Ethics.
"As a biologist, this is just my heartbeat," Rorem said. "When I taught this course, I got to engage with different views and ideas toward creation, and what I found was fascinating."
For instance, she discovered that few of her students had any experience gardening, fishing, birdwatching, or spending significant amounts of time outside. Most students had also grown up in cities or suburbs. Fewer had lived in rural contexts.
"They hadn't grown up seeing people live out connections to creation," Rorem said. "They hadn't observed it. These findings also intrigued me from a perspective of 'how can we re-educate, how can we redeem our ways of thinking and knowing and being a part of creation?'"
Experiential Learning at HoneyRock
Rorem used her observations to develop a new summer course called Creation Care: Values and Virtues. which launched this past May. The course is part of the Wheaton in the Northwoods (WIN) program held at HoneyRock, the Center for Leadership Development.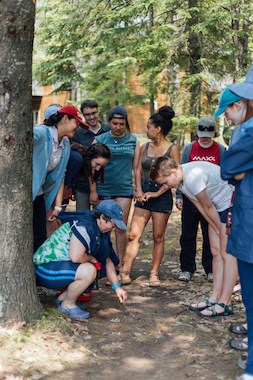 WIN courses are intensive two-week courses taught at HoneyRock, which use the outdoors and HoneyRock's community dynamic to enhance the learning experience.
During last summer's Creation Care course, 13 students joined her on a deep dive into caring for the created world. They discussed everything from the biblical arguments for caring for creation to the pressing environmental concerns of the day, such as global warming. They also considered ethics, and they ended with the practical application: How then shall we live as Christians?
"One of the beauties of HoneyRock is the experiential learning, so you're in an environment where you're experiencing the very thing you're talking about. I could lecture, and then we could just pop out the door and go down to the water and look for some critters," Rorem said.
One morning, Rorem sent students out in pairs to identify trees.
"Later that afternoon, we went on a field trip, so I said 'OK, let's walk through this trail and just see what we know,'" she said. "Many of the trees that they learned that morning, they were identifying on the walk, and that was really exciting for them."
At the edge of HoneyRock's Long Lake, the class searched for fish and other lake creatures. In canoes, they floated together and read aloud about creation from Beasts at Bedtime: Revealing the Environmental Wisdom in Children's Literature.
Ultimately, Rorem hoped the WIN class would be an opportunity for students to grow in their love for God.
"I really wanted them to know God's love for them, understand more deeply his love for his creation, and understand his desire for them to love his creation as well," she said.
Learn more about WIN at wheaton.edu/WIN.—Emily Bratcher