During her U.S. Bank internship last summer, Jeein Youn and a team of three others won the bank's inaugural Case Competition.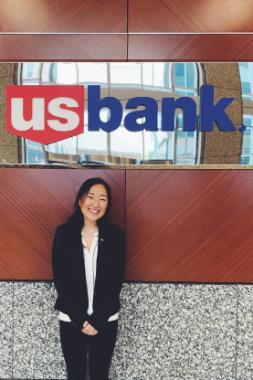 This past summer, Jeein Youn, a Business and Economics major at Wheaton College, landed an internship at U.S. Bank in its consumer and business banking department.
Not only did the internship give Youn hands-on experience managing the relationships between the bank and the businesses and individuals who sought loans, but it also gave her the opportunity to participate in U.S. Bank's inaugural Case Competition.
For this competition, Youn and three other U.S. Bank interns based in other offices were tasked with collaborating on solutions to expand the bank's diversity and inclusivity efforts.
At first, Youn was intimidated by the competition. "This is impossible," she remembered thinking. "There are 300 interns and most of them are from big schools, where they are majoring in one specific thing, and not at liberal arts schools."
At the same time, her competitive nature kicked in: "There was a part of me that was like 'there's no way I'm going to win,' but there was another part of me that was like 'I really want to win this.'"
Youn's internship gave her practical experience.
Youn had taken Wheaton College Associate Professor of Marketing Dr. Hannah Stolze's marketing class the semester prior to her internship, where she learned several practical skills that helped her team, including how to complete a SWOT Analysis. She also relied on lessons learned in other classes, including ways to cope under high pressure and to work well with a team.
In July, Youn's team presented its ideas in the first round of the competition, successfully advancing to the next round. Each time the team moved ahead, the work and practice time increased, Youn said. After presenting the first three rounds of the competition via video conference, U.S. Bank flew her team members to the bank's headquarters in Minneapolis to present their ideas in person during the final round.
"As we made it through each round, it was scary, thinking 'We could really win this,'" Youn said. "It was also just very exciting."
Youn also said she experienced God's presence even as she worked.
"During each round, I was seeing that God is there even in a workspace—even for things like a competition," she said. "He's not only with us at church. That was really an important thing for me to experience this summer."
Several days later, when Youn received an email notifying her that her team had won the entire competition, she couldn't believe it. The team was flown to Minneapolis, and got to present three ideas to U.S. Bank's senior vice leaders, later having lunch with the CEO.
The presentation went well, and the C-suite especially liked one of their ideas for a new podcast. In fact, U.S. Bank is currently considering plans to potentially implement the podcast.
Throughout the entire experience, Youn says, she was grateful for God's guiding hand and the support of Wheaton College faculty, staff, and friends as helping her along the way—especially Dr. Stolze's class, her career coach through the Center for Vocation and Career, and a good Wheaton friend who drove her to and from her in-person interview.
Youn's internship gave her direction for the future.
"Throughout the internship and especially in the competition, I started noticing what I'm good at and what I'm not, what I like to and don't like, and those traits and skills really point to a career in consulting," said Youn, who is now a junior. "So, for next summer, I'm going to look into consulting internships."
Learn more about how Wheaton College's Center for Vocation and Career helps students find internships here. —Emily Bratcher