This blog features stories by, about, and from the community of the Wheaton College Graduate School. This story was developed by Lucia Sanders (M.A. in Biblical Exegesis '18) in conversation with Hannah Hempstead (M.A. in Historical Theology '19).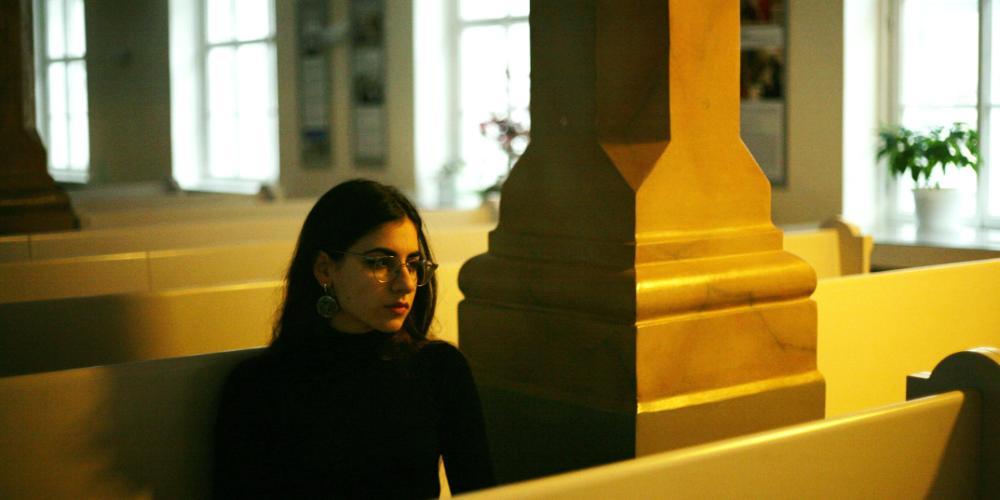 Women, Witness, and the Word: Who Will Listen?
Recent movements within the church and society as a whole bring up some perennially relevant questions that we need to consider:
Will we see women in leadership roles?

Will we listen to and hear women?

Will we take action to effect change as a result of what women say?
The biblical text validates the voice and experience of women, either in ways we have forgotten or in ways we need to see with new eyes. God's actions toward women in the Old Testament and the New Testament are affirming of women and of their voices, showing that women are both authoritative witnesses about God and valid participants in the social sphere. Scripture shows us that:
God sees women,

God listens to and hears women,

and God takes action on behalf of women.
Among the earliest theophany accounts in the Old Testament is when Hagar meets the angel of the Lord in Genesis 16. It is here that she calls God, "the God who sees me."
Luke 24 is also a helpful passage in this regard. This chapter of Luke's gospel tells the story of the women who were the first witnesses of Jesus' resurrection. Verses 9-12 tell of how the disciples received the news of the resurrection from a group of women:
When they came back from the tomb, they told all these things to the Eleven and to all the others. It was Mary Magdalene, Joanna, Mary the mother of James, and the others with them who told this to the apostles.
But they did not believe the women, because their words seemed to them like nonsense.
Peter, however, got up and ran to the tomb. Bending over, he saw the strips of linen lying by themselves, and he went away, wondering to himself what had happened. (Luke 24:9-12)
As we see in this passage, an entire group of women testified about something so important: the resurrected Christ, and only one man (Peter) saw, listened, and acted on what he had heard. With the rest of the disciples, we see that
The disciples failed to see the women as valid witnesses,

the disciples failed to listen and hear the women's witness,

and the disciples failed to take action on what they were told.
These failures delayed their own knowledge and apprehension of the gospel, and delayed their own effectiveness in becoming witnesses. God chose to reveal this central part of the gospel, the resurrection, to women first. This passage not only validates women's voices, it stands as a call to action-- to listen to and validate women.
Like the disciples two thousand years ago, there are many people both outside and inside the church who question the witness of women. Women today are still having issues with being seen, believed, and heard, and with seeing important actions being taken as a result of what they say. Taking our lesson from the disciples' failure, as today's disciples we have a chance to lead in a way that Christianly walks alongside modern societal movements. Like the disciples, we need to learn that seeing, hearing, and acting in response to the witness of others are three of the first steps in becoming an effective witness of the gospel.
- Lucia Sanders with Hannah Hempstead

Further Resources:
Upcoming Event at Wheaton College:
February 11-12, 2019: Where Are the Women? presents student and alumni led conversation engaging with questions surrounding the past, present, and future of the female body of Christ for the sake of Wheaton, the Church, and the world.
Selected Further Reading from Wheaton Faculty and Alumni:
Dr. Tammy Schultz's (Professor of Counseling) book, Beyond Desolate, considers a Christ-centered approach to healing for sexual abuse.
These recent articles by Wheaton College School of Psychology, Counseling, and Family Therapy faculty, Drs. Tammy Schultz and Sally Schwer Canning, discuss "What We Long for the Church to Know About Sexual Violence," and "What We Long for the Church to Do About Sexual Violence."
Church History and Biblical and Theological Studies:
Former Wheaton Professor of New Testament Dr. Lynn Cohick (Now Provost and Dean at Denver Seminary) and Wheaton Ph.D. Alumna Dr. Amy Brown Hughes (Assistant Professor of Theology at Gordon College) recently published a volume tracing the history of women in the ancient and early church, Christian Women in the Patristic World.
This essay by Dr. Timothy Larsen, Carolyn and Fred McManis Chair of Christian Thought at Wheaton discusses the history of women in ministry in evangelicalism.
Dr. Amy Peeler, Associate Professor of New Testament, contributed to the collection, Vindicating the Vixens: Revisiting Sexualized, Vilified, and Marginalized Women of the Bible
------
Photo Credits:
Woman in church pew photo by Harry Miller on Unsplash
White chapel photo by Harry Miller on Unsplash