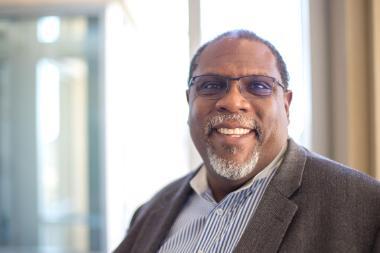 Rodney Sisco, Director of Wheaton College's Office of Multicultural Development, went home to be with his Savior on Sunday, December 30, following a 5 ½-month battle with cancer.
Sisco, a Philadelphia native, graduated from Wheaton in 1984. For more than 30 years, he served as a consistent presence on campus, providing wise, sensitive, and God–honoring leadership.
"Under Rodney's leadership, the Office of Multicultural Development has had a strong legacy of supporting students of color and encouraging the Wheaton community to work towards diversity in Christian unity," said Wheaton College President Dr. Philip Ryken. "He encouraged increasing numbers of students, faculty, and leaders of color to become a part of Wheaton, lending to the richness of this community."
Sisco also offered national leadership on diversity in Christian higher education. He served on the Racial Harmony Commission of the Council for Christian Colleges and Universities; the Board of the National Christian Multicultural Student Leaders Conference Inc.; and on the Diversity Task Force of the Association of Christians in Student Development, which recognized him with its Jane Higa Award for Racial Harmony.
Sisco, who described himself as "a perpetual optimist," recently reflected on his long service in Christian higher education in a chapter of the book Diversity Matters: Race, Ethnicity, & The Future of Christian Higher Education.
In his essay, Sisco compared his years of service at Wheaton College to a complex jazz composition: a combination of consistency and artistry. He wrote: "The complexity of music pales in comparison to the complexity of understanding diversity in contemporary society. Just as listening to a complex composition requires focus and diligence, so too does the conversation of diversity. Longevity in Christian higher education for me has been to find that balance of consistency and artistry akin to finding the groove of a song."
Sisco is survived by his wife, Hasana, who graduated from Wheaton in 1986, and their two sons.
The funeral service will be held at College Church in Wheaton (located at 332 East Seminary Avenue) at 11 a.m. on Saturday, January 12. There will be a viewing from 9 to 11 a.m. CT. A live stream of the service will be available on Boxcast.tv.
Wheaton College has also created a memorial page for Sisco. Messages of affirmation and appreciation for his influence may be sent to Student.Development@wheaton.edu. All messages received will be bound together and presented to the Sisco family to encourage them and to preserve testimonies of Rodney Sisco's faithful kingdom service.