Wheaton's Emily Ding is among the American Anthropological Association's inaugural class of Undergraduate Research Fellows.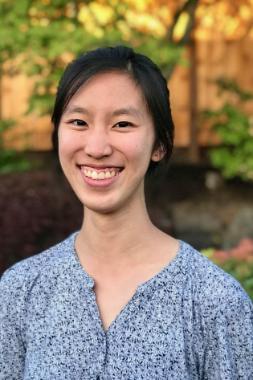 Emily Ding, a sophomore at Wheaton College, is one of six students selected by the American Anthropological Association (AAA) to participate in its inaugural Undergraduate Research Fellows program.
The class of fellows will complete research that addresses the question, "how do anthropology majors prepare for life after college?" Ding's research project will examine the way anthropology students at Wheaton College respond to messages about career and vocation that are articulated by the College's career guidance programs.
"The anthropology majors here are unique in terms of demographics because we have an overwhelming majority of women, and most of us come from racial/ethnic minority groups, or have lived at least some of our lives overseas as missionary kids, third-culture kids or international students," Ding said. "I am very excited to conduct research among my classmates to hear their stories and learn about how or whether Wheaton's programs—the Center for Vocation and Career and Opus: The Art of Work—have impacted their understanding of where God is calling them after graduation."
Wheaton College Anthropology Professor Dr. Brian Howell, who is serving as Ding's mentor, is also excited about this opportunity.
"Executing original research is one of the most important skills anthropology students develop as undergraduates, and this is a unique and powerful opportunity for Emily," Howell said. "With the cooperation and support of our Center for Vocation and Career and Opus, I believe Emily's research has the opportunity to make a real contribution to our understanding of our students, and conversations around vocation and calling for undergraduates."
The fellows program offers participants a stipend to participate in two AAA annual meetings. This past year, she connected with professional anthropologists at the meeting in San Jose. Next year, she'll have the opportunity to present her work at the AAA annual meeting in Vancouver, BC.
The program also gives $1,500 in funds to cover research expenses, as well as the opportunity to connect with top anthropology students from around the nation. Although each fellow will be working on his or her own project, they'll develop a research cohort that will be in communication throughout the year, according to Howell.
"Emily has already impressed me with her grit and determination to solve problems, set goals, and follow through," Howell said. "I look forward to working with her on this project."
For Ding: "Being part of this fellows' program is an opportunity that I would never have dreamed of, and one I didn't even know existed until a week before the submission deadline! It's been a steep learning curve, but I am thankful for every part of the journey, and the fact that people out there are interested to hear about the experiences of our small anthropology department in this relatively small Christian liberal arts school."
—Emily Bratcher