Earlier this month, Wheaton College Dean of Humanities Dr. Jeffry Davis became a member of the Modern Language Association's Delegate Assembly.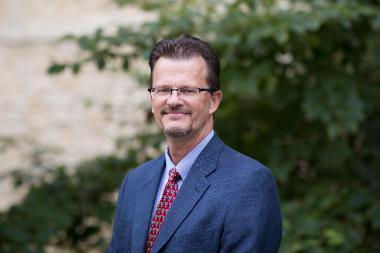 Jeffry Davis' nomination for his new role at the Modern Language Association (MLA) came from a surprising source—someone he didn't know.
Northwestern University's Dr. Nasrin Qader nominated Davis for the role, explaining to him that after looking at Davis' research, she found his commitment to a liberal arts education within a serious interdisciplinary framework important.
"I think that the Delegate Assembly needs strong and committed voices to continually support such a double and interrelated agenda," Qader told Davis. "I also think that as a department chair and director of the interdisciplinary program, you are attuned to the challenges that your faculty and institution face and, as a leader, you will not hesitate to contribute on institutional and professional issues."
"Given her careful consideration of my professional commitments, I felt obliged to run for election," Davis said. During his three-year term, which began on January 7, Davis will have an opportunity to recommend actionable items regarding the objectives and practices of the MLA and vote as a member of the governing body.
Founded in 1883, the MLA is one of the foremost supporters of the humanities, and it publishes some of the most prestigious academic journals, including PMLA. Its national conference draws thousands of members each year, who convene to present research and consider trends in the profession.
Davis' election to MLA comes after nearly three decades of service to Wheaton as a Professor of English, Chair of the English department, director of Wheaton's Interdisciplinary Studies major, and more recently, as Dean of Humanities at the College. He is also the recipient of Wheaton's Senior Teaching Achievement Award and the Leland Ryken Award for Teaching Excellence in the Humanities.
"Dean Davis' election demonstrates the respect that he has engendered among his academic peers," said Wheaton College Provost Dr. Margaret Diddams. "It will also allow him to be a voice in the major guild that strongly shapes much of the humanities."
In addition to teaching, Davis also authored Interdisciplinary Inclinations: Introductory Reflections for Students Integrating Liberal Arts and Christian Faith (Institute for Interdisciplinary Research, 2016). Davis is also co-editor with President Ryken of Liberal Arts for the Christian Life (Crossway, 2012). He also serves on the editorial board of the Journal of Interdisciplinary Studies.
When it comes to his goals for his tenure on the Delegate Assembly, Davis said: "I intend to be an advocate of formative teaching, empathetic engagement, and academic civility—some of the hallmarks of higher education at its best."--Emily Bratcher