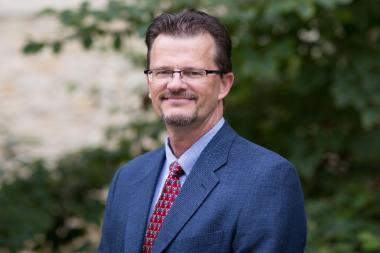 Dr. Jeffry C. Davis, Chair and Professor of English and Director of Interdisciplinary Studies, has been appointed Dean of Humanities at Wheaton College.
As Dean, Davis will oversee the Departments of English, History, Modern and Classical Languages and Philosophy.
"Dr. Davis is an articulate champion of Christ-centered liberal arts education, and especially of the humanities," says Wheaton College Provost Dr. Margaret Diddams. "I look forward to Dr. Davis not only leading this division but also contributing to academic initiatives at the College."
Davis graduated from Wheaton College with a B.A. in English Literature in 1983. He also holds an M.A. in English: Literature and Rhetoric/Composition from Northern Illinois University and a Ph.D. in English: Language, Literacy and Rhetoric from the University of Illinois—Chicago.
Davis has served on Wheaton's faculty since 1990. His teaching and writing explore themes in higher education, particularly the literacy skills that are central to the liberal arts. As chair of the English department, he has encouraged students to cultivate the lifelong practices of reading, writing, listening and speaking.
As the director of Wheaton's Interdisciplinary Studies major, Davis works with students who research complex issues —"wicked problems"—that require multiple disciplinary perspectives and effective integrative methods to properly address them. Under his leadership, the program was redesigned and today receives national recognition. Davis is a recipient of Wheaton's Senior Teaching Achievement Award and the Leland Ryken Award for Teaching Excellence in the Humanities.
The author of Interdisciplinary Inclinations: Introductory Reflections for Students Integrating Liberal Arts and Christian Faith (Institute for Interdisciplinary Research, 2016), Davis is also co-editor with President Philip Ryken of Liberal Arts for the Christian Life (Crossway, 2012). He serves on the editorial board of the Journal of Interdisciplinary Studies.
"The humanities remind us of one of the central goals of a liberal arts education, especially in the Christian tradition: to become more humane." Davis says. "By reading important texts, foremost being the Bible, and then writing and talking about them honestly, the imagination enlarges, allowing us to consider what it is like to be another human being. In this age of increasing social divisions, the skill of compassionate civility can truly serve the public good."
Davis and his wife, Ruth (Executive Director of Outreach and Strategic Enrollment Management at National Louis University), have five children. He will begin his new duties on August 15.