The #MyWheaton blog shares first-person stories from Wheaton students and alumni.
Community, Laughter, and Conversation
Maddie Cash '21 is an English literature major from Fairhope, Alabama. In this MyWheaton post, Maddie considers her experiences of language-learning, culture, and community during her summer with Wheaton in Spain.
I stared longingly at the glowing EXIT sign close by, hit by waves of nausea as I realized what I had gotten myself into. There was no turning back now. Loudspeakers were blaring out the boarding group numbers as I took a deep breath, slung my backpack over my shoulder, and stepped into the line for Flight 375, bound for Madrid.
My journey to Spain had really started during the fall of 2017 as I rushed into my introductory Spanish class, flinging myself into my front row seat just as my professor began to speak. "We have a special guest today, class—Professor Barlar is going to speak to you about our summer program in Spain. This is a great program for those of you who are thinking about minoring or majoring in Spanish—you can potentially complete 10 credit hours for your Spanish requirement."
I snuck a glance at my friend next to me as the professors began to play an informational video. We smirked at each other—who were we kidding, we were the last people on earth who would be well suited to go to Spain. I could barely string a simple sentence together without having to google verb conjugations, and my family would probably never let me study abroad for 2 months during the summer. I pushed the Spain trip out of my mind as impossible, although I took a flyer and tucked it into my folder just in case.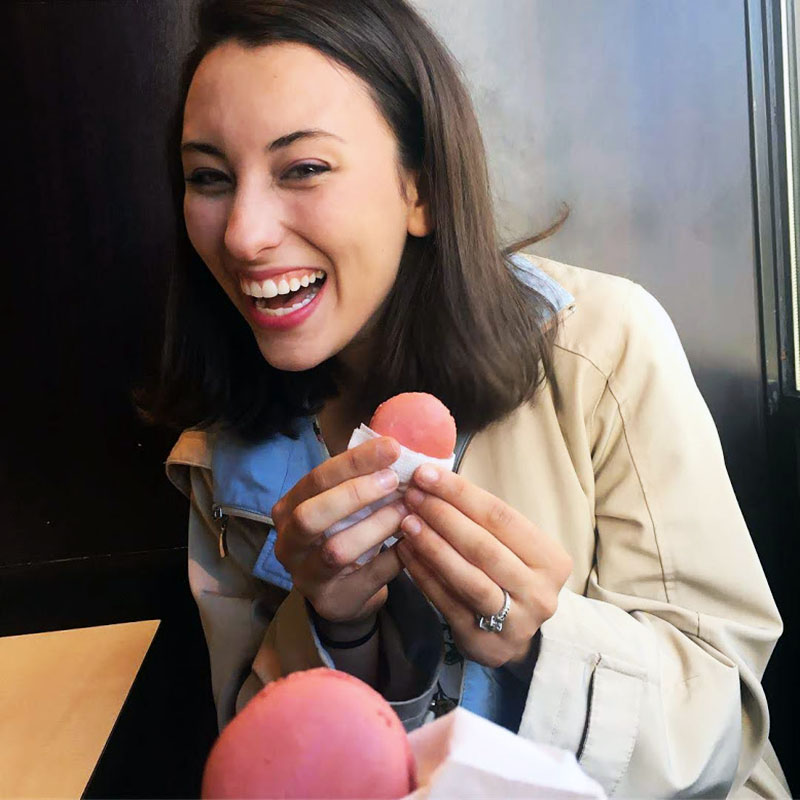 Sure enough, in March, I found myself sitting in weekly orientation meetings for the 2018 Wheaton in Spain program along with 20 of my fellow Wheaton students. We found out that we'd be traveling for the first two weeks, heading from our hotel in Madrid to hotels in Cordoba, Toledo, Seville, and Granada taking courses titled Spanish Civilization and Culture and Intensive Advanced Spanish. Then, we'd spend the month of June in Salamanca, taking Spanish classes with a language school called DileCursos. We'd conclude the trip with Northern Spain, blowing through Galicia, Santiago de Compostela, Bilbao, and Barcelona during the first two weeks of July. I left those sessions utterly overwhelmed.
And overwhelming was the perfect word to describe the cacophony of people, sounds and smells that greeted me as I stepped out of the plane into the metropolis of Madrid. Our program required us to sign a contract to only speak Spanish during the trip, which meant that I was pretty quiet during my first few days in Madrid. I felt utterly lost—how in the world could I communicate using a language that I had only started learning a year before?
However, there were encouragements along the way that aided me in my language learning journey. Our first stop in Madrid was a technology shop called Orange, where the employee began to help me with my SIM card and easily spotted that I was out of my element. "Are you learning Spanish? I can help you practice," he told me with a grin. I left the store half-embarrassed and half-excited: I needed to get a whole lot better at Spanish, but at least God placed people in my path to support me and laugh along with my mistakes.
The first few weeks traveling and learning about the Spanish culture flew by. I wrote in my journal at the end of my first week in Madrid that "the great language mix up is happening." Spanish and English merged into one, and our group had many laughs as we tried to communicate our thoughts using a zany mesh of the two languages. This cultural mix helped me to understand a little better the convergence of cultures that has shaped Spain itself. Spain has a rich history of Jewish, Islamic, and Christian people groups coexisting in the same locations. While this confluence has invited conflict and bloodshed, many cities in Spain are beautiful illustrations of how different religious traditions can live together in tolerance and shared customs. Cordoba, for instance, is home to a cathedral and a mosque in one building—the architectural elements have shared qualities of both traditions.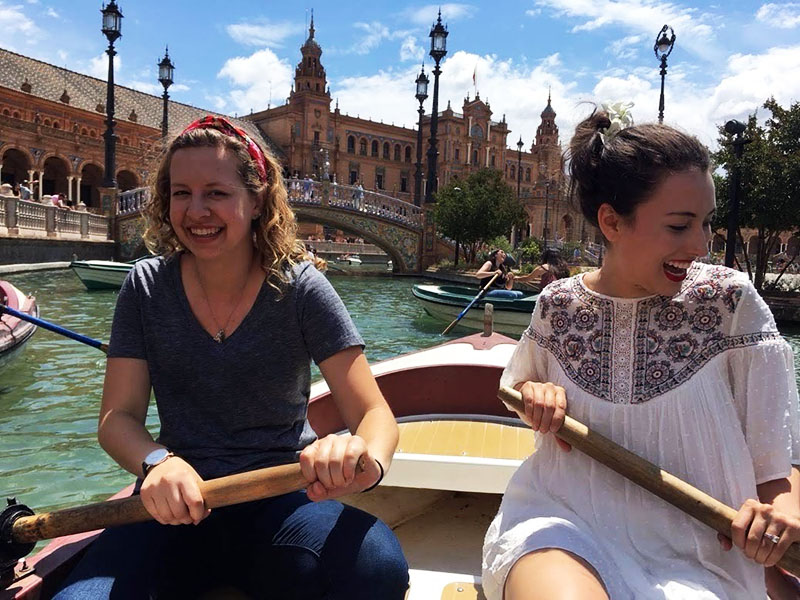 As a group, we began to process how religions, Christianity in particular, have coexisted with other religions. Yet we also had several difficult discussions about how Christian and Muslim rulers in Spain made mistakes in their treatment of other people of different faiths, and how modern-day Christians like ourselves can rectify this. Ultimately, the first weeks in Spain left us vulnerable to new mindsets and open to growing in relationships with each other, as well as provided us with a solid linguistic foundation through immersion.
This was a perfect starting point to embark on the longest stretch of our trip—a month in Salamanca. We began living with host families and taking daily classes at an intensive language school, working on in-depth presentations about Spanish religious, cultural, and economic history to help us sensitively relate to the particular history and practices of our new host culture. This uncomfortable month was a whirlwind of growth spurred by some much-needed reality checks with my host mother, Maribel.
Five feet tall at most, Maribel used her equally tiny kitchen to cook 3-course feasts for lunch and dinner, over which we would linger for hours. During these delicious meals, I would share about my long day at school and how my confidence, small at the start of the trip, was diminishing with each marked-up paper I received back from my teachers. I was used to working hard on my homework and receiving corresponding results, but language learning is rarely that simple: often, progress does not go at a fixed rate, but jumps and plateaus during uncorrelated periods of time. I expressed my frustration with this process to my opinionated host mom, and she pointed a perfectly manicured finger at me and shook it. "NO, mija," she exclaimed. "You work hard, you go to school, you do your homework. But without confidence, you aren't going to learn Spanish." I sighed and slumped back in my chair as she snapped her fingers at me to make sure I understood. "Your life is your own," she told me. "No one can tell you who you are or who you can be—so what is there to be afraid of? Just go out there and start talking, mistakes and all! You'll be surprised how much progress you will make."
I laughed and nodded my head rapidly to show I understood her advice, but the full force of her words didn't hit me until the month was over and I was reviewing my progress linguistically and personally in a short essay assignment. Maribel was right: when I forgot to fear what others thought of my halting grammar and American accent and just spoke Spanish, I learned. I forgot to pay attention to the minute details of the Spanish language and just focused on conveying my thoughts and making connections with other people, and my grammatical and comprehension skills skyrocketed. This marked a turning point for me: Maribel's advice not only changed my remaining time in Spain, but changed my attitude about all of my academic endeavors. Life, and learning, is not solely about individual growth at a steady rate of progress. It is about relationships with others—it happens in a community, with laughter and conversation.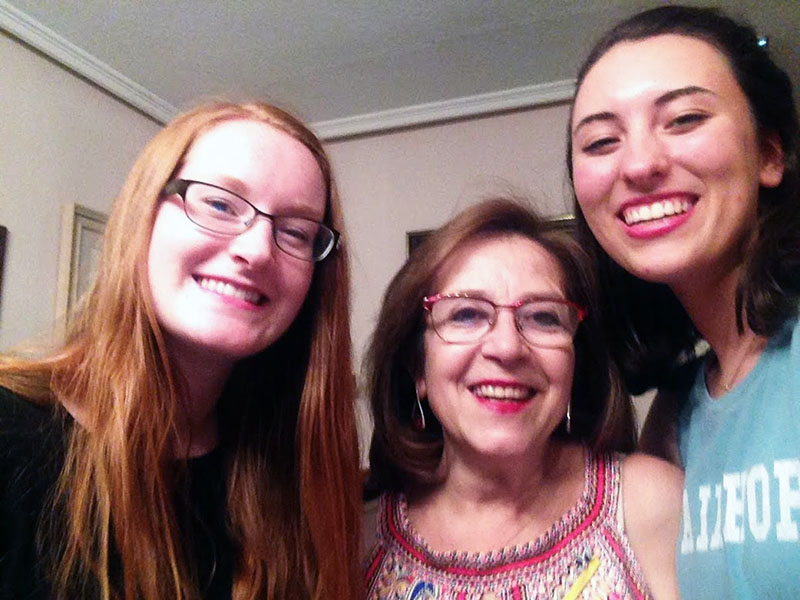 Bouncing along in the final bus ride on the way to Salamanca, I wrote in my journal that "it is terrifying leaving [the early] phase of the trip. I've loved getting to know my friends who are just as scared as me. We've laughed until I cried (at dinner one night), we've shared inside jokes, and we've seen some of the most beautiful historical monuments of history together. It's hard to transition out of that place into a place of vulnerability, of grades, of total immersion. I'm scared. It helps that others are scared as well—our community will support each other, if no one else will (even though I know they will.)"
Yet in Salamanca, and in the entirety of the Wheaton in Spain trip, I discovered that my community was bigger than myself and my Wheaton friends and mentors, although that community is strong and continues to be huge blessing to me. My true Wheaton in Spain family included my Wheaton compatriots, but also encompassed every individual that I encountered. The professors at Dilecursos, Maribel and her daughter, the woman who sold us artisan canvas tote bags and asked about our studies, the American missionaries who we met in Seville, the Catholic pilgrims we interviewed in Santiago de Compostela, and the Spanish youth group we played Marco Polo with in the pool in Barcelona became our community that supported us, taught us, laughed with us, and encouraged us without even knowing it. I realized that while learning the linguistic ins and outs of Spanish, seeing great monuments and cathedrals, and researching the history of Spain are all worthy learning activities, they are not the only, or even the biggest, takeaways from my Spanish adventure.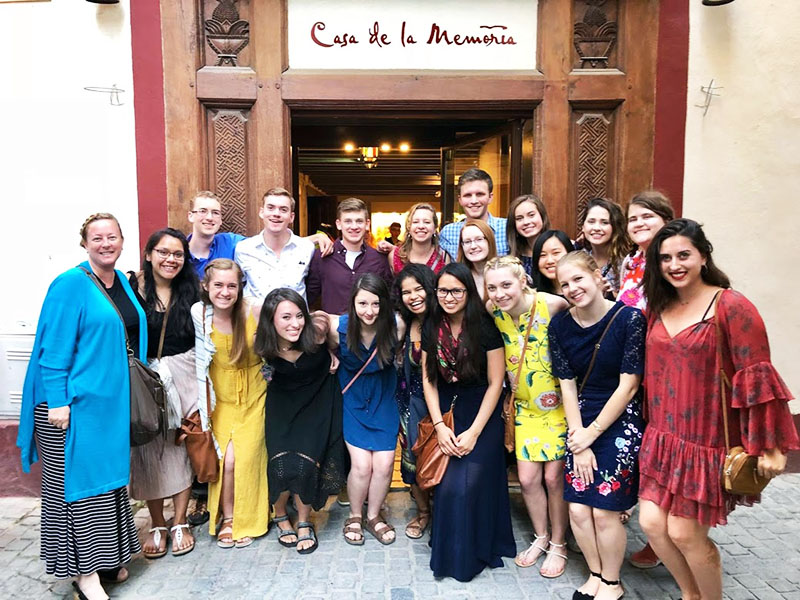 The real lesson that Wheaton in Spain taught me was that I needed to forget my fears and live fully and fearlessly in community in order to grow exponentially. Finally, what I had heard all year at Wheaton became real to me: intentional community, especially in a cross-global setting, creates a learning environment that doesn't promise immediate success, but brings me a step closer to discovering what I was placed on this earth to do for Christ and his kingdom.