The story of how the experience of going on a mission trip working with Syrian refugees inspired a doctor to pursue a degree in Humanitarian and Disaster Leadership at Wheaton College.
This blog features stories about Wheaton College Graduate School. This week's story is about Gigi Dawood.
Gigi felt powerless after a trip to a Syrian refugee camp. Then she realized "that was sort of the point," and the path of her life changed.
By Laura Leonard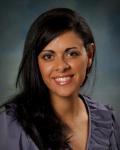 In August 2018, the first cohort of the MA in Humanitarian & Disaster Leadership will convene on Wheaton's campus. One of the most frequently asked questions about this program is what a typical student looks like. It's a difficult question to answer, because this program is intentionally designed for students from a variety of educational backgrounds—including those straight out of undergrad, those who've been in the workforce for years, and those who are already working in the field and want to strengthen their training. But this is the story of how Gigi Dawood, a "typical" member of the MA in Humanitarian & Disaster Leadership's inaugural class, ended up finding her way into this program.
From Healing Patients to Serving Syrian Refugees
Gigi Dawood had spent 13 years after medical school working as an endocrinologist when she signed up for what would turn out to be a life-altering mission trip to Greece to work with Syrian refugees last summer. The team of 20 "country folk" from her church in Durango, Colorado, led by workers from YWAM and Euro Relief, spent the first week at a YWMAN training facility in England, preparing as best they could for something they knew they could never be fully prepared to experience. People who had been before told them their role was simply to help in any way possible, and Gigi found this exciting: she didn't want to go as a doctor. For these two weeks, she wanted to hover around the background, doing whatever thankless task needed to be done. And that's just what she did. For 10 days, in the largest Syrian refugee camp in Greece, she did whatever the host organization needed, on the ground level of one of the biggest humanitarian crises in the world.
Crazy, Amazing, Complicated and Heartbreaking
She describes her time in the camp as "crazy, and amazing, and complicated, and heartbreaking." Her overriding feeling was one of powerlessness: "I remember being very frustrated, because I had nothing in my power that seemed to help anybody. But that was sort of the goal." As she pushed past the frustration, she began to observe more complex dynamics at play in the day-to-day operation of the camp: the way so many religions and cultures mixed, the prevalence of sex trafficking and other injustices, the ways the various NGOs coexisted and divided work, the presence of short-term church groups and their desire to feel good about their contributions, the different ways Christians expressed their faith in their lives and work in the camp.
More than anything, she left with a sense that she wanted to do more, but she didn't know where to start. She'd always had an interest in medical missions, but she wasn't sure how vital her specialty in endocrinology would be on the field. She was intimidated by the idea of raising support and struggled to figure out how to fit short-term work into her current career.
MA in Humanitarian & Disaster Leadership
As a Wheaton College alumna (she spent the first two years of undergrad at Wheaton before transferring to complete her nursing degree), Gigi Dawood received an email from the college announcing the launch of the new MA in Humanitarian & Disaster Leadership, offered by the Humanitarian Disaster Institute at Wheaton College Graduate School, a few months after returning from her trip. The email laid out the mission of the program: "to prepare the next generation of humanitarian and disaster professionals to lead with faith and humility, are grounded in evidence-based practice, and equipped to serve the most vulnerable and the Church globally."
This intrigued her, and she immediately contacted the Graduate Admissions department to learn more. She sensed God was offering this opportunity, but worried that she was too old, that she'd forgotten how to be a student, that the other applications would be "holier" and have more to offer. God had been moving in her since her trip to Greece, and this felt like he was opening a door. She decided to continue the application process, confident that even if she didn't have any idea what was on the other side of this door, she would walk through it as an act of faith.
Drawn to Heartbreak
After she submitted her application, HDI founder and executive director Dr. Jamie Aten sent her a copy of After Shock, a book by HDI Senior Fellow Kent Annan about understanding faith and development work in the midst of tragedy, through the lens of Kent's experiences working in post-earthquake Haiti. It spoke directly to the things she'd been processing. "[After Greece] I thought, there has got to be a better way. I don't understand anything about refugees and their crisis. Over the last several years, I've been drawn to the heartbreak. I would rather be in somebody's pain than somebody's joy. I don't know exactly why. It's pretty interesting, because Dr. Aten sent me a book, After Shock, that Kent Annan wrote, and I started reading it, and he makes some interesting comments about the need to be around suffering and the need to justify the pain."
The First Program of Its Kind in the World
She sees in the MA in Humanitarian & Disaster Leadership an opportunity to prepare for the type of work she got a taste of in the refugee camp and to do it as an expression of her faith. It's one thing to understand the work the organizations are doing in various contexts, she says, but "without a Christian bent to this, none of this makes sense. None of it." This graduate program is the first in the world to emphasize both humanitarian and disaster leadership grounded in evangelical faith. And she'll learn from Dr. Aten and Kent Annan, who will teach many of the classes in the program. The program will also feature interdisciplinary courses taught by Wheaton professors and experts from the field, all of whom bring years of experience and expertise in the faith-based disaster and humanitarian world, and topics of importance to understanding this work and this calling.
Joining a Diverse Cohort of Students
When she arrives on campus this August, she'll be joined by students from other experiences, other disciplines, other fields, other generations, and other continents. Gigi, like some other students in the program, is taking advantage of the Flexible Learning format, which will allow her to pursue the degree while maintaining her career. This is one of the goals of the MA in Humanitarian & Disaster Leadership: to bring together a diverse group of students to prepare them to go out into a diverse world, addressing a diverse set of needs in a diversity of settings. As Gigi observed in the refugee camp in Greece, every area in the relief world is interconnected and any understanding of one role needs to understand the full context and work collaboratively with every other area.
In many ways, Gigi is the definition of a "typical student" for this program. Whatever path they take to get there, the most valuable thing a student can bring to the program is a sense of the great need in the world and a curiosity to know more about how to faithfully respond to God's unique movement in their life and to help bring relief to the most vulnerable.
M.A. in Humanitarian and Disaster Leadership
With classes available online or in a residential format, this new M.A. is the first ever to offer individuals an opportunity to learn about humanitarian and disaster preparation with a focus on faith-driven leadership. Learn more about the M.A. in Humanitarian & Disaster Leadership and apply for admission or connect with an admissions counselor.