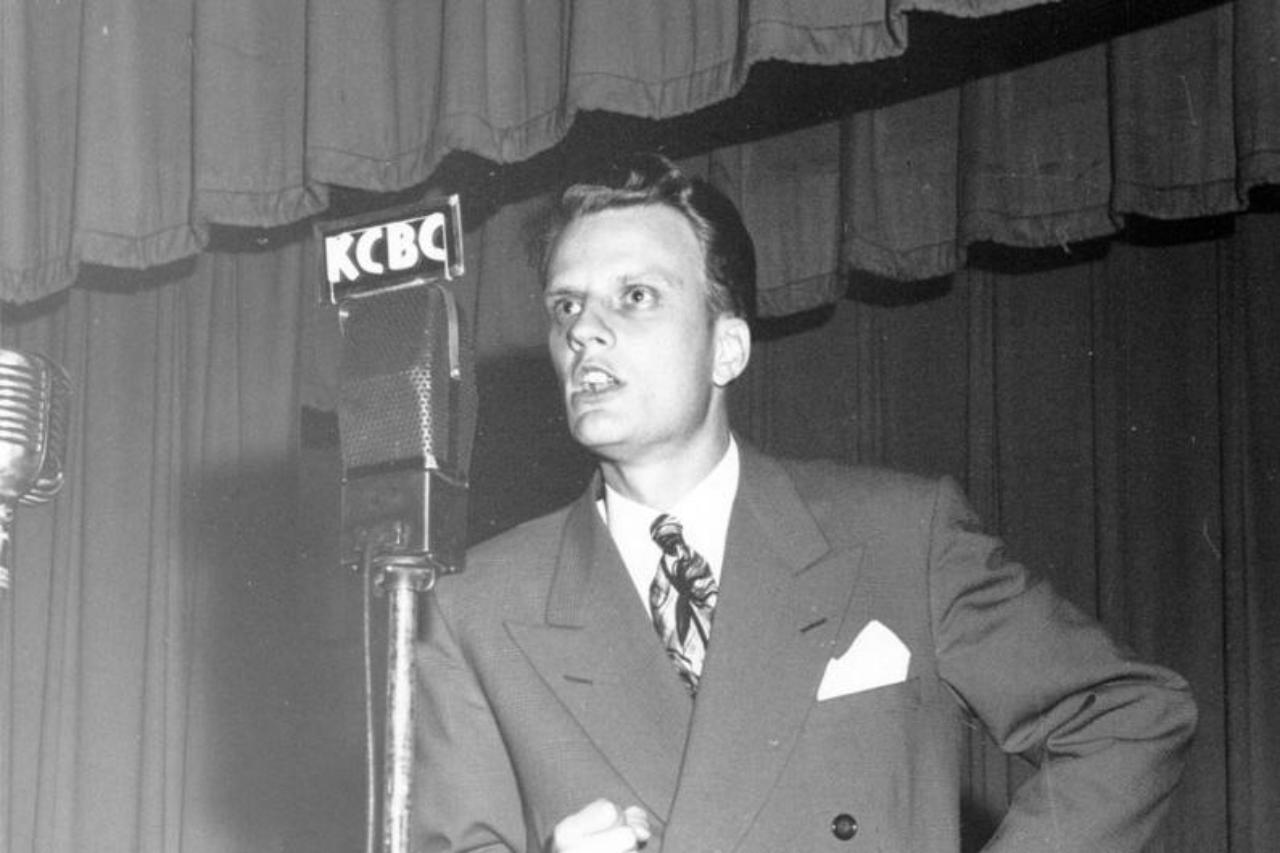 A young Billy Graham preaching over the radio in Des Moines, Iowa in 1948. The newly opened collections in the Billy Graham Center Archives cover more than six decades of his career as an evangelist and public figure.
UPDATE – March 16, 2018
In accordance with the wishes of the Billy Graham Evangelistic Association, Collection 685 will now be opened on November 7, 2018, the 100th anniversary of the birth of the Rev. Billy Graham. Collection 580 will open as scheduled on March 19, 2018.
The Billy Graham Center Archives at Wheaton College will open two new collections on the ministry of Rev. Billy Graham and the Billy Graham Evangelistic Association (BGEA) on March 19. The collections are being opened to the public in accordance with the wishes of Graham, who died February 21, and the BGEA.
"These collections are a treasure house for anyone interested in Rev. Graham, American evangelicalism, or global Christianity, among many other possible subjects," says archivist Bob Shuster. "People will benefit from Rev. Graham's generosity in making them available for many years to come."
Collection 580 - Records of the BGEA: Montreat Office, 1940-1948, 1950-2012 includes letters, sermons, reports, memoranda, transcripts, clippings, manuscripts, and other materials maintained at the Montreat, North Carolina office of the BGEA.
Montreat was Graham's personal office and administrative base for his ministry. Topics covered in the records include Graham's management of the worldwide activities of BGEA; the planning and conducting of his evangelistic campaigns; his involvement in the work of other Christian institutions; numerous interviews; and articles by and about him that appeared in print and electronic media for decades. This collection also includes some files from Rev. Graham's pre-BGEA ministry with Youth for Christ and The Village Church of Western Springs (now The Village Church/Western Springs Baptist Church) of Western Springs, Illinois.
Collection 685 - Records of the BGEA: Montreat Office - VIP Notebooks, 1946-2015 consists of digital copies of letters, photos, notes on phone conversations, programs, and other documents kept at the BGEA Montreat office in notebooks labeled VIP.
Most of these notebooks document Graham's personal relationship with every US president from Harry S. Truman to Barack Obama. One notebook relates mostly to Pope John II; two others document contacts with various world leaders.
The documents in both collections are closed until they are 30 years old; some documents have additional restrictions.
Archives
The Billy Graham Center Archives is a department of Wheaton College in Wheaton, Illinois. It collects, preserves and makes available materials about North American parachurch evangelism. For more information, visit the Archives' website.