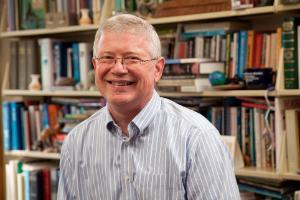 Scott Moreau, Associate Academic Dean of the Wheaton College Graduate School and Professor of Intercultural Studies, was recently appointed Dean of the Wheaton College Graduate School.
As Dean, Moreau will lead and manage the Graduate School's 17 masters and doctoral degree programs. He has served as Interim Dean of the Graduate School since 2017.
"Dr. Moreau is committed to helping the Graduate School flourish," says Acting Provost Dr. Jill Baumgaertner. "He is a gifted teacher, scholar, and highly dedicated advocate of the Graduate School internationally. As a pioneer in the area of online learning, he will guide the school into the development of new hybrid programs to fit the needs of the diversifying range of graduate students."
As Baumgaertner notes, one of Moreau's initial projects is to adapt the delivery systems of Wheaton's graduate programs to reflect the changing landscape of graduate education through online, modular, and low-residency coursework.
"Wheaton Graduate School is poised to capture opportunities for change, but I am committed to ensuring that the Grad School will remain steady in the fundamentals that have characterized Wheaton throughout its history," Moreau says.
Moreau has served as a Professor of Intercultural Studies at Wheaton for the past 27 years. During that time, he has focused his research on the contextualization and visual expressions of faith in majority-world contexts, while his teaching focuses on cross-cultural teaching and communication.
He has formed key partnerships between Wheaton and international academic, missions, and para-church organizations, and will continue to build on these partnerships as Dean. He especially hopes to cultivate partnerships between Wheaton and institutions throughout Asia.
"Through these partnerships, we will internationalize the Wheaton College Graduate School," Moreau says. "We will foster kingdom identity as we learn from each other and grow together into the image of Christ that the global church together aspires to reach."
Moreau graduated from Wheaton with a B.S. in Physics in 1977. He also holds both an M.Div. and D.Miss. from Trinity Evangelical Divinity School. As Professor of Intercultural Studies and Missions, he has been honored for his commitment to the classroom and his impressive publishing record, receiving both Wheaton's Senior Teaching Achievement Award and Senior Scholarship Achievement Award. In addition to serving as general editor of Baker Publishing's Encountering Mission book series, he has edited Evangelical Missions Quarterly since 2001.
Graduate School
Wheaton College Graduate School offers doctoral and masters degrees in advanced theological and ministry training, designed to enhance both the professional education and holistic development of its students. Discover more information about the Graduate School.