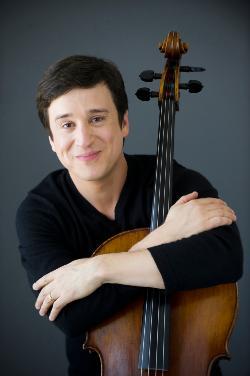 For Leonardo Altino, an internationally respected cellist who serves as associate lecturer of music at the Wheaton College Conservatory of Music, Johann Sebastian Bach's six Solo Cello Suites provide a unique opportunity for worship as Holy Week approaches.
It is widely known that Bach, one of the world's most influential composers, was a man of faith who composed more than a thousand works, the majority of which were performed in worship. Yet the Solo Cello Suites are not considered to be among his spiritual works.
Through his study of the suites, Altino has come to believe that they, too, are appropriate for worship. In this meditation on the first of the six suites, Altino interprets Bach's music in light of the life and character of Christ.
"Suite I: Wonder"
There is something very spiritual about the music of Bach.
The six suites for cello solo are no exception. Each of them carries a message. The first of the Suites in G major to me is about wonder. Some say that in the baroque period the G major key was the key of benediction, of saying a blessing.
Pablo Casals, the great Catalan cellist, used to begin each day by playing two preludes and fugues by Bach each day. He said it was his way of blessing the day and his home—a benediction, and it was also a rediscovery of the world of which he had such joy of being a part of.
Three simple arpeggiated notes.
A harmony that is both simple but in its simplicity so profound.
That is the genius of Bach.
Sometimes, the greatest beauty is found in simplicity.
This suite calls us to wonder. To delight. To trust. To rest. To peace.
It reminds me of the words of the prophet Isaiah (9:6):
"For to us a child is born, to us a son is given, and the government will be on his shoulders. And he will be called Wonderful Counselor, Mighty God, Everlasting Father, Prince of Peace."
Sometimes we lose the sense of wonder in life. In what we do, what we think, and what we believe.
I think this music points us to the answer: child-like wonder.
We were meant to live in wonder, in delight, in peace, in rest.
Like Casals we have to rediscover the world which surrounds us. With each measure, each change of harmony, each turn in the music, God is inviting us to walk with him. Hold his hands. Look to him, the Master.
He can make sense of things.
He can give us peace and restore Wonder.
You can hear the rest of Altino's meditations through the Bach Cello Suites in the six-part devotional video series "Christ's Life, Bach's Art." A new video will be released each day between Palm Sunday and Good Friday on the Wheaton College Conservatory of Music Facebook page. You can also hear Altino play through the six Solo Cello Suites on Saturday, March 24, 2018 at the Bach for Holy Week concert in Wheaton. More details are available at wheaton.edu/artistseries.