Growing an NGO from the Classroom
Like many members of the inaugural M.A. in Humanitarian and Disaster Leadership class, Cheryl Sorenson brings a wealth of previous experience in humanitarian and disaster relief to the program. In this article, Cheryl shares about how her experience leading an NGO led her back into the classroom, and how she's pouring what she learns right back into the organization.
by Sarah Holcomb
When Cheryl Sorenson helped to found Dignity4Girls, an NGO providing sustainable feminine hygiene products to adolescent girls in Kenya, she didn't anticipate the complex issues she'd face in international development work — or that she'd find herself back in the classroom four years later in the MA in Humanitarian and Disaster Leadership program at Wheaton College Graduate School.
Cheryl encountered the need for reusable sanitary pads in the Majority World in 2014, when a missionary couple connected her church—Family and Faith in Glendale Heights, Illinois—with Robert Gutwa, a native Kenyan who serves as the director for Sacred Center for Widows and Orphans. He shared with them that girls in Kisii, Kenya reported missing 48 days of school per year due to lacking access to sanitary products during their menstrual cycles. Missing school often created more problems for these girls, he explained; it burdened female students' households and led to early marriages before young women completed their studies.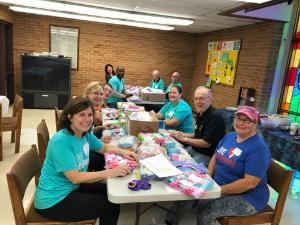 Moved to action, a group of women from the church began sewing pads and liners to send overseas using patterns provided by another organization, "Days for Girls." Cheryl helped with sewing and training others to sew, and used her background in art and graphic design to create marketing materials for the new organization. As sewers multiplied across the Midwest, Cheryl took on an administrative role, co-directing the organization. D4G has since shipped over 2,500 feminine hygiene kits to Kenya, which have helped to reduce dropout rates, school absenteeism, and early pregnancies. The group has also sent 1,400 kits to Liberia.
When Cheryl first heard about the MA in Humanitarian & Disaster Leadership program, she sensed it could be an opportunity for herself and the organization. "As I became more involved on a development level with D4G, I realized I was lacking a broad understanding of cross-cultural development," Cheryl says. "It was at that point that I began to seriously consider enrolling in the M.A. program at Wheaton. As my own daughter was starting her college search, I began to sense that God was leading me to pursue a degree in Humanitarian Disaster Leadership."
The cohort's first classes in August 2018 covered the different areas of disaster ministry, from responding to disasters to learning about psychological crises.
"I think what's been so eye-opening about [the HDL program] is finding that the ideas I previously had in mind, of what it looks like to work in disaster ministry, or the best way to run an NGO, or the best way to help people, were not correct," Cheryl says.
When it comes to effectively addressing community needs, she learned, good intentions aren't enough. Through a course focused on NGOs, HDL students learn about common misconceptions in international development. For Cheryl, these discoveries hit home.
"[Often] we come in as the helper without considering that the people who are the experts are the people living in the area. And they understand the culture in a way we can't ever understand," she explains. "To come in with our ideals and our thoughts of what a way of living is like is wrong for them, and I think it's wrong for us to impose that on them."
The NGO class was instrumental in helping Dignity4Girls assess their effectiveness in two critical areas: health and education. Cheryl drew on classroom learning to develop programs alongside Robert and others in Kenya, and to outline the organization's objectives.
"It's all applicable to our organization. And it's a lot more complicated than we thought when we started."
She also discovered that listening to community experts often reveals unanticipated obstacles. For example, Robert informed the team that during the rainy season, local deaconesses—tasked with distributing the kits of sustainable hygiene products and educating adolescent girls—were struggling to walk to the villages due to rain and mud. Now Cheryl and the organization are working to help develop the "Kenyan Enterprise Project," which will ensure that the organization's Kenya-based leaders can provide for local needs—like rainboots—independently.
This works toward Dignity4Girls' ultimate goal of equipping local leaders to be self-sustaining. The organization recently sponsored Gladys, a Kenyan seamstress, to attend a special training in order to learn to sew the pads herself. Gladys has since trained an apprentice, and they will sell the kits locally.
Soon the program will include not only a sewing enterprise, but also a hen enterprise developed on a donated piece of land. The land will also provide a marketplace to sell eggs and sewn products.
"People don't want to be dependent. No one really wants a hand-out. There's dignity involved," Cheryl says. "I really believe that in every culture and in every place, people have something to give. What I find unfortunate is that we often look at people living in different conditions than us and we don't appreciate it the way we should, imposing our views of what it means to be successful and happy."
For Cheryl, Dignity4Girls has been an ongoing, personal case study as she goes through her classes in the Humanitarian and Disaster Leadership program, implementing what she learns directly to improve the organization. At the same time, her experience in the NGO world provides her a unique point of view in the program.
"It provides me with lots of hands-on opportunities to apply the things that I'm using, but it also gives me a perspective, because I've seen some of the things we talk about."
Learn more about the M.A. in Humanitarian and Disaster Leadership, or about our other graduate programs in the School of Mission, Ministry, and Leadership.
Sarah Holcomb is a journalism and Human Needs & Global Resources student at Wheaton College and is originally from Austin, Texas.