Posted August 28, 2019 by Academic and Institutional Technology
Tags: Classroom Technology
Dear New Students (New Freshmen and New Grad Students),
As you start the semester, there has been a password sync issue which occurred between when most of you claimed your accounts mid to early summer, and the start of the semester. This has caused challenges with logging into Schoology, even though you can log into the Wheaton Portal and your My.Wheaton.edu gmail. The fix for this involves logging into accounts.wheaton.edu and syncing the accounts. The instructions are linked here, and Solution 2 is what has worked for those that have contacted the AIT Service Desk. The instructions are also shown below.
Issue
If a person has been given additional accounts since they last set their password, they won't be able to sign in to their new accounts until they set a password on the new accounts. These instructions can also be used if a person tries to set a password and it fails for some accounts.
Set password on new accounts only
To sync your existing password, use the sync feature in the Wheaton Account Center.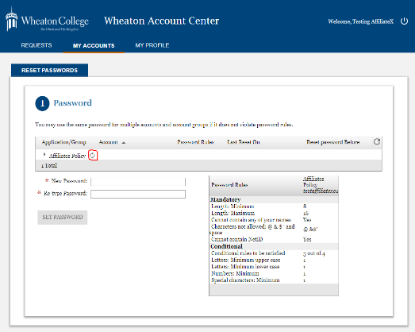 Note: If the ReSync Passwords icon does not exist, then the passwords on the accounts may already be in sync.
Choose Active Directory for authentication, and type your password.