Posted August 7, 2019 by Academic and Institutional Technology
Tags: Department News
Introducing Proofpoint
Every day more and more cyberattacks are heading toward our campus. As AIT strives strive to improve security we have chosen Proofpoint as our new technology to help protect against specific threats that are distributed via email, including phishing and targeted attacks. These threats originate from malicious web sites which are triggered when users click on links (URLs) in email messages. Messages containing these links often look legitimate, even to the discerning eye. This technology protects you and Wheaton College's assets by blocking access to malicious URLs. Per our required annual cybersecurity training, it is still imperative that users continue to carefully choose what they click on. You can read more about Proofpoint here.
If the link is safe, you will see no difference. If it is malicious, you will see a notification in your browser like the following: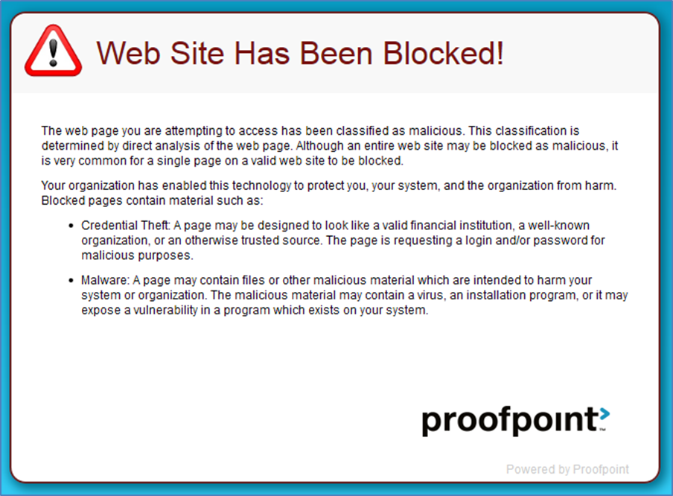 This notification shows the URL was malicious, and the technology successfully protected you.
In addition, malicious or suspicious emails will now be "caught" by Proofpoint and put into a Quarantine. When this happens, you will get an email from Proofpoint once a day alerting you to check the emails in your quarantine. You'll have the opportunity to review them to confirm that the emails are, indeed, malicious. The system will "learn" over time as you help it know whether it has caught any false positives.
You will receive more information about Proofpoint before it is rolled out to you.
If you have any questions or concerns, please contact Academic and Institutional Technology at 630.752.4357 (HELP) or by email at ait.service.desk@wheaton.edu.