Posted November 21, 2018 by Academic and Institutional Technology
Tags: Phishing Attempts
Phishing Attempt | Annual Exercise
Effective Date: November 21, 2018
Faculty and staff recently received an email pretending to be from President Ryken and prompting them to click on a link to open a document for approval.
This email is our annual phishing exercise in which we test the Wheaton College community to encourage them to be aware of real phishing emails they receive. In this case, if a person responded to this scam and entered his/her username and password (which would have given a real criminal access to his/her account) they were taken to an Academic and Institutional Technology page on the Wheaton College website reminding them to be cautious in the future in situations like this. Thank you to all who recognized this exercise and/or reported it to the AIT Service Desk.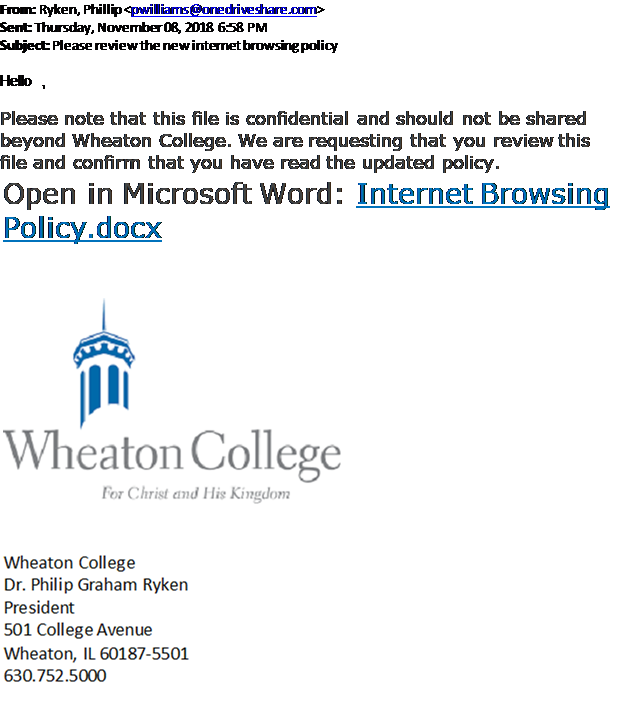 The image above is a screenshot of this phishing exercise. Several things indicate that this email is not what it claims to be:
The subject line is vague and invokes a sense of urgency. While subject lines like this don't always indicate a phishing attempt, it's still a sign to be more cautious than usual.
Check to see if the URL matches the supposed sender. You can often hover over links to see the URL. This email claims to be from Philip Ryken, but the address is from pwilliams@onedriveshare.com.
The body of the email is extremely vague, which is often an indication of a phishing attempt.
President Ryken's first name, "Philip," is spelled incorrectly in the "From" line.
Always exercise caution when responding to emails. If you're not sure whether an email is a phishing attempt or not, contact Academic and Institutional Technology at 630.752.4357 (HELP) or by email at ait.service.desk@wheaton.edu.