Posted November 1, 2018 by Academic and Institutional Technology
Tags: Phishing Attempts
Phishing Attempt | Email Server Upgrade
Effective Date: November 1, 2018
Some Faculty and Staff have recently received an email pretending to be from Wheaton AIT, and prompting them click a link to change their password in preparation for an "Email Server Upgrade". This link redirected users to a site which prompted users to enter their user name and password.
This email is a phishing attempt. Do not open the attachment or visit the linked website. Thank you to all who reported this scam.
If you responded to this scam, or entered your login credentials on the linked website please contact us at 630.752.4357 (HELP).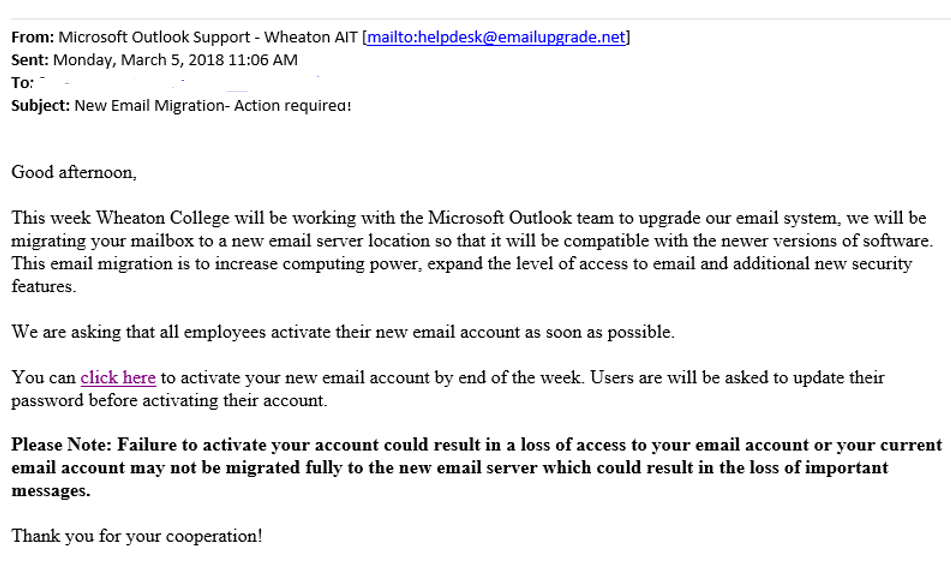 The image above is a screenshot of this phishing attempt. Several things indicate that this email is not what it claims to be:
The email creates a sense of urgency by claiming you will lose your data if you do not act quickly. While creating a sense of urgency in an email doesn't always indicate a phishing attempt, it's still a sign to be more cautious than usual.
Check to see if the URL matches the supposed sender. You can often hover over links to see the URL. This email claims to be from Wheaton AIT, but the link directs people to a non-Wheaton website.
A legitimate email from Wheaton College should include contact information such as an email address and phone number for the department sending the email.
The sending email address does not match the name at the bottom of the email.
Always exercise caution when responding to emails. If you're not sure whether an email is a phishing attempt or not, contact us or call 630.752.4357 (HELP).