At the center of campus, north of the Billy Graham Center, is historic Blanchard Hall, Wheaton's "Old Main."
Blanchard was built in four sections beginning in 1853 and completed in 1927. It is named for Jonathan Blanchard, the College's founder and first president (1860-1882), and his son, Charles Blanchard, the second president (1882-1925).
Blanchard Hall is constructed of native Illinois limestone quarried in Batavia, Illinois. Its castle-like architecture is patterned after buildings at Oxford University which Dr. Jonathan Blanchard admired on a trip to England in 1843.
The building is listed in the National Register of Historic Places. During a major renovation in 1989-90, care was taken to preserve the character and integrity of many elements in the original design.
During the Civil War, Blanchard Hall was a stop on the Underground Railroad, harboring fugitive slaves on their way to freedom. [Learn more about Wheaton and the Underground Railroad in this article by WBEZ Chicago.]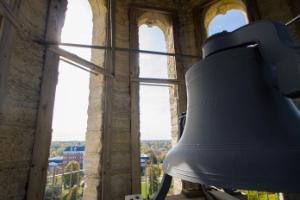 The last stone of the octagonal tower was set on October 5, 1872. The old bell that rang that day was replaced a few months later by a 1,000-pound copper and tin bell cast in Troy, New York. The school motto, Christo Et Regno Ejus ("For Christ and His Kingdom") is engraved on the bell.
Blanchard Hall is home to the Burr Obelisk, an octagonal tower which is the former grave marker of abolitionist James Burr, who was buried on Wheaton's campus.
Offices for departments in the Humanities and Social Sciences currently occupy the building as well as the offices of the President, the Provost, Vice-Presidents and Academic Affairs. The Human Resources and Purchasing departments can also be found at Blanchard.