The new organ, crafted by Taylor & Boody Organbuilders, will be used to lead and accompany hymn singing, accompany musicians, and train students.

Wheaton College unveils a new 3-manual, 38-stop pipe organ, built by Taylor & Boody Organbuilders of Staunton, Virginia, in the new Concert Hall of the Armerding Center for Music and the Arts. This organ will be used to accompany choirs and instrumental musicians, as well as to train students. But its main purpose is to lead and accompany congregational hymn singing.
Throughout the centuries, organ music has played an essential role in worship and the work of proclaiming the Gospel, said Wheaton College Music Professor .
"From ancient times, when an early form of the organ provided entertainment for the games in the Colosseum in Rome, through the early Middle Ages, when the instrument was 'redeemed' for Christian use in services of worship and all the way through to the present day, the organ has served Christ and His Kingdom by providing effective musical means for moving believers to action," Zimmerman said. "This is illustrated in the words of Colossians 3:16, 'Let the words of Christ dwell in you richly as you teach and admonish one another with all wisdom, and as you sing psalms, hymns and spiritual songs with gratitude in your hearts to God.'"
The design of the oak organ case was inspired by organ cases in Pittsburg, Pennsylvania, and Hildesheim, Germany, built by Rudolf von Beckerath (1907-1976) of Hamburg, Germany, who spearheaded the modern organ movement of the 20th century. The metal pipes across the front of the case have been polished to a high sheen for the reflection of light, and their pipe mouths have been gilded in 24-carat gold. Inside the case behind the front pipes are a total of 1,964 individually crafted wood and metal pipes of all shapes and sizes. All told, there are tens of thousands total parts, of both modern and ancient construction.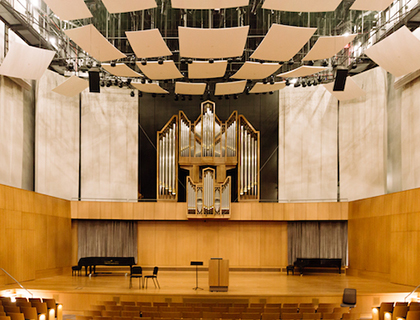 The Armerding Center organ will join the larger, 4-manual Casavant in Edman Chapel, serving both the College and the Wheaton community with the sounds of world-class concert pipe organs. This $1.5 million organ was made possible by two generous anonymous donors.
"Our new organ has the College motto carved onto the front of the case in large letters, and gilded as well: Christo et Regno Ejus," Zimmerman said. "Along with all the others who helped in this journey, it is my hope and prayer that this organ in this new hall will serve in its highest calling and its reason for being: For Christ and His Kingdom."
The Wheaton College Conservatory of Music invites you to see this beautiful instrument by attending one of the upcoming events. The inaugural recital featuring this organ will be performed by faculty artist, Edward Zimmerman at 7:30 p.m. on Tuesday, October 12.
- Emily Bratcher
Learn more about the Armerding Center for Music and the Arts