Dr. Shawn Okpebholo wrote a five-movement score titled UNKNOWN in honor of the hundred-year anniversary of the Tomb of the Unknown Soldier in Arlington, Virginia.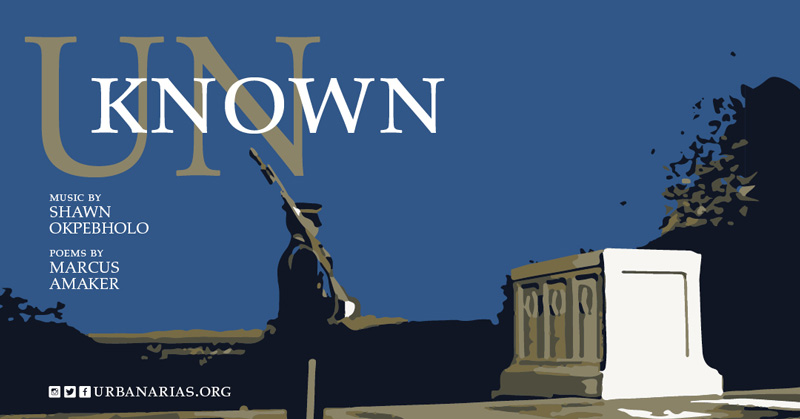 To commemorate the 100-year anniversary of the Tomb of the Unknown Soldier at Arlington National Cemetery, Wheaton Music Professor and award-winning composer Dr. Shawn Okpebholo collaborated with Washington, D.C.-based opera company UrbanArias and Charleston, South Carolina poet laureate Marcus Amaker on UNKNOWN, a five-movement musical set.
UNKNOWN, which was commissioned by UrbanArias Artistic Director Robert Wood and co-commissioned by Minnesota Opera, Dallas Opera, and Opera Colorado, will debut at the Barns at Wolf Trap in Vienna, Virginia on Tuesday, October 5. On Veteran's Day 2021, UNKNOWN will also release in its video format. The 20-minute piece will be performed by mezzo-soprano Taylor Raven and baritones Michael Mayes and Schyler Vargas, who will be accompanied by members of the Inscape Chamber Orchestra.
When Okpebholo received the call about the commission, he said he couldn't pass it up—even though his schedule was already packed with other commissions, teaching at Wheaton College, and beginning a Chicago Opera Theater composer residency.
"This project intrigued me because it was an American story," said Okpebholo. "It was so meaningful to work on since the Tomb of the Unknown Solider is something that we as Americans can all relate to."
Amaker penned the words for the five-movement set, which Okpebholo said became the source of inspiration for the score. Each movement is told from a different perspective, including a soldier at war, a loved one back at home, a soldier who is about to die, a Tomb guards, and the final movement honors the memory of heroes.
"Before I wrote a single note, I spent hours with Amaker's text, I asked him questions about it, I listened to him recite the poems, I would ask myself: 'what would it mean to go off to war' and tried to place myself there," Okpebholo said. "But his text really informed my work."
Prior to this project, Okpebholo and Amaker collaborated on the powerful song set Two Black Churches, a musical reflection on the tragic events that occurred at the hands of white supremacists in 1963 at the 16th Street Baptist Church in Birmingham, Alabama and decades later in 2015 at Mother Emanuel AME Church in Charleston, South Carolina.
"In the process of this project, I've learned so much about the Tomb of the Unknown Soldier—for instance, the way it honors thousands of fallen and unknown soldiers and the care with which it is continuously guarded—has made working on UNKNOWN all the more meaningful," Okpebholo said.
How to Tune In:
The online premiere of the film of UNKNOWN is on Veteran's Day, Monday, November 11, 2021, on the centennial anniversary of the founding of the Tomb of the Unknown Soldier. The free film is available for on-demand streaming on UrbanArias website through November 18, 2021.
--Emily Bratcher