Dr. Shawn Okpebholo was awarded the prestigious two-year Vanguard Emerging Opera Composer residency from the Chicago Opera Theater, during which time he'll write an original opera score.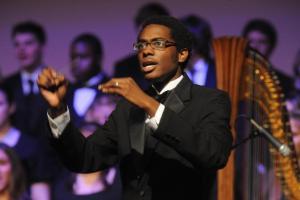 In Wheaton Music Professor Dr. Shawn Okpebholo's free time, he composes award-winning pieces of music. His music has been performed all over the world—from The Kennedy Center in Washington, D.C. to the Monte Music Festival in Goa, India.
Just about the only thing he's never composed is an original opera score, but by the close of 2023, Okpebholo will do just that as part of a two-year Vanguard Emerging Opera Composer residency from the Chicago Opera Theater.
Started in 2018, Chicago Opera Theater's Vanguard Emerging Opera Composer residency gives emerging opera composers a comprehensive program of study in opera composing, while also offering a stipend and the stage to debut an original opera.
"This program takes you beyond composition," Okpebholo said. "It's really exposing you to all aspects of an opera, taking into account the librettist, the staging and lighting, dramatic writing, and more."
Unlike a work meant for the concert stage, composing an opera score means writing music that carries a 90-minute or two-hour narrative.
Okpebholo is also excited for the opportunity to learn about the great composers of the past like Puccini and Mozart, as well as contemporary ones like American Jake Heggie. During the residency, Okpebholo will also get the opportunity to work with contemporary opera conductors, while also studying musical scores, observing rehearsals, and participating in pre-production workshops.
As for the art of creating his own opera, Okpebholo said he has a few ideas percolating but hasn't fixed on his final inspiration. However, he is certain that he wants his opera score to carry weight.
"My art doesn't come from a place of music for music's sake," he said. "In other words, my compositions are always about something--a response to, inspired by, or even a study in."
The residency will officially commence in 2021. Part of it will dovetail with a sabbatical from teaching, but Okpebholo said that the process of multi-tasking composing with other responsibilities is always a juggle. But he said, his wife and two daughters, also musicians in their own right, are incredibly supportive.
Ultimately, anytime that Okpebholo is able to create something, he gives all the glory to God.
"It's truly God's grace and the work of the Holy Spirit," he said. "It's supernatural when sometime hours of the day multiply. It's miraculous some of the creative ideas that seem to come from nowhere. It's God. I know many brilliant composers who are not people of faith. And I can honestly say that I do not understand how they can create, as my creative process is wholly informed by the ultimate Creator."--Emily Bratcher