Mutinta Silenga M.A. '15, Navigators Africa Missions Director and The Navigators Zambia Training and Missions Director, shares her experience of navigating COVID-19 abroad.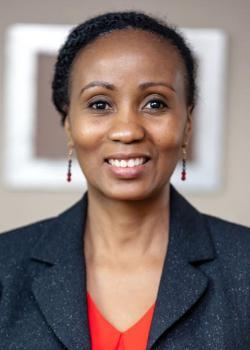 Mutinta Silenga M.A. '15 is currently serving as The Navigators Africa Missions Director and The Navigators Zambia Training and Missions Director. In these roles, Mutinta works with Navigators ministries in several African countries to bring an increased focus and alignment to their missions efforts and to promote intentionality in developing a "missions culture" within Navigator ministries across Africa. In Zambia in particular, Mutinta is responsible for leading the team that provides training for new staff and promotes missions involvement and engagement.
"Our desire is to see those who are involved in our ministry mobilized and equipped to reach the unreached within the continent and beyond," Mutinta said.
Mutinta's M.A. in Intercultural Studies and Missions from Wheaton has helped her adapt and navigate her current ministry responsibilities in response to COVID-19.
"I have an awareness and knowledge of the issues that current and potential missionaries face, some of which have been intensified, or new ones that have emerged," Mutinta said. "This has given me opportunities to serve and contribute to missions, whether by helping formulate missions strategies and policies or training and encouraging individual missionaries in our 'new normal.'"
Pre-COVID-19, Mutinta's ministry involved many meetings and a fair amount of travel locally, regionally and internationally. Because of current travel restrictions, she has had to adapt to working from home, which involves almost all of her meetings and training sessions via Zoom and Skype.
"Of course these changes have had their challenges," Mutinta said. "Initially, it was the challenge of learning to use new technology. Over time, the challenge has been experiencing 'Zoom fatigue,' and also missing person-to-person connections. But I have been very grateful that ministry has not come to a halt due to COVID-19. Working from home has given me the opportunity to minister to and be more involved with family members and neighbors."
Highlights of her ministry during COVID-19 have included preparing and sharing three messages during the Navigators' first ever Singapore Labourers Day Zoom Conference which was attended by over 250 international workers and attending a virtual graduation and commissioning ceremony for Navigator staff trainees.
Despite the challenges that we are facing globally, Mutinta's encouragement is to remind ourselves of God's promises, especially within Ephesians 3:14-21.
"God is fully present, and we can rest securely in His love," Mutinta said. "Let us also continue to open our eyes and hearts to how we can minister to those around us who are needing to hear and experience Jesus' love during these times." –- Allison Althoff Steinke '11