New Hampshire State Epidemiologist Dr. Benjamin Chan '02 shared his experiences facing COVID-19 in the U.S.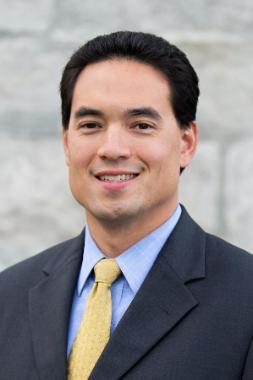 Dr. Benjamin Chan '02 works full-time at the New Hampshire Department of Health and Human Services as the State Epidemiologist, where he's been employed since 2014. As the State Epidemiologist in New Hampshire, Ben applies his medical and epidemiology expertise in working with local, state, and national organizations, including the Centers for Disease Control and Prevention (CDC), to address population health needs in the state.
"Epidemiologist is a pretty broad term to describe someone who studies the distribution of health problems and diseases in a population, including the causes and risk factors for disease, and seeks to use that understanding to prevent disease and promote health," Chan said. "Public health is a team sport. It happens at the community level, and requires many people from different backgrounds with different experiences and expertise."
While there is never a shortage of public health threats in the United States—Ben's daily work involves addressing environmental health threats, cancer, and antibiotic-resistant infections across New Hampshire, to name a few—the emergence of COVID-19 was unique in that it created an "all-hands-on-deck" sort of situation.
"Because this pandemic affects everybody everywhere, the magnitude and duration of the response has tested our endurance and public health capacity," he said. "One of the major challenges in this pandemic is engaging all people and getting them to understand the seriousness of the pandemic and the need for behavior change to prevent spread of COVID-19. A team-based approach is essential, and I'm fortunate to work with a dedicated team of public health professionals and State partners to mitigate and prevent spread of the novel coronavirus in our state."
Before the outbreak of COVID-19, New Hampshire was coming out of a Hepatitis A outbreak. During the last few years, Chan had also been supporting a public health response to concerns over drinking water contamination and cancer.
Now, in the midst of the pandemic, his work has shifted to focus on controlling spread of COVID-19. Chan's team investigates each and every person diagnosed with COVID-19. That way, they can identify people who may have been exposed to the virus and instruct them to stay home so they're not spreading the virus to others. They also communicate and coordinate with local partners, create medical and public health guidance, and help the State figure out how to balance safely reopening and allowing business to operate while maintaining control of COVID-19.
"I've been in front of the media at press conferences frequently sharing updates on the progress of the pandemic and providing public health guidance," Chan said.
Chan came into public health work through the medical field. As a biology major at Wheaton, Ben said that Wheaton laid a strong foundation for him to pursue his scientific, medical, and public health interests. Some of his most memorable classes include Biochemistry, Public Health, Parasitology, and the Marine Biology class that took their laboratory component on a week-long trip to South Water Caye, Belize. Additionally, Ben noted that his time at Wheaton—especially taking part in courses including Christian Thought—taught him to develop strong learning habits and to appreciate diversity of thought.
"Especially in this very polarized political climate, public health must be able to understand and effectively engage people and communities of differing opinions who are coming from different backgrounds," Chan said. "Wheaton was one of the first places I remember having to get out of the narrow worldview of beliefs I grew up with. I was exposed to a diversity of opinions and beliefs. It was a difficult period, but it served a valuable purpose."
Chan worked as an emergency medical technician (EMT) in the Chicagoland area for a year after graduation from Wheaton. He went on to attend medical school at the University of Vermont College of Medicine, and completed an internal medicine residency at Dartmouth-Hitchcock Medical Center (DHMC) in New Hampshire. He worked as a hospitalist for one year and then completed a combined infectious disease fellowship and preventative medicine residency at DHMC while also obtaining his Masters of Public Health degree at The Dartmouth Institute (TDI). He still practices clinical medicine, primarily infectious diseases work, but he has been working full time at the New Hampshire Department of Health and Human Services as the State Epidemiologist since 2014.
His wife, Amy Wright Chan '02, also works in medicine as a registered nurse specializing in obstetrics. They started dating in high school, got married while Chan was in medical school, and returned to New Hampshire to raise their kids, now ages 13 and 10.
"Amy has done much of the heavy lifting of managing our household and children, but doing all of this during the pandemic is really a heroic effort," he said. "I am thankful for her support and the important work she has been doing making sure our household is running and helping our children manage through the pandemic."
"Staying at home and social distancing is causing a real emotional and mental strain on our society, my family included," Chan said. "The steps we need to take to prevent COVID-19 from spreading–social distancing, avoiding crowds and public places, etc., is not natural human behavior. We're made to live in relationships and community. We all want to get back to a normal life, but we are being asked to temporarily forego these good things for the sake of loving and protecting others, especially those who are most vulnerable in our communities."
He said this pandemic has created a time of uncertainty which has caused anxiety for many people. On top of that, people are out of jobs, there are challenges with children and education, and parents are uncertain how the school year is going to progress. But Chan stressed that we know how to control spread of this virus, and New Hampshire has been successful at this.
"What the future holds for the COVID-19 pandemic remains uncertain and that uncertainty can breed anxiety and fear," he said. "We need to be aware of our own reactions and emotions, and those in others. People are responding differently to this pandemic which is highlighting some of the existing divides in the country. Especially as Christians trying to live out our faith, I'd like to see people rise above those divides and differences of opinion to take steps to protect people around us."
Chan is passionate about his work and does everything he can to make sure everyone knows that public health's primary goal is to protect everyone's health and wellbeing.
"This should be the core mission for all of us, including and especially Christians," he said.
He knows we will come through this pandemic "as we have with past challenges," but insisted that "how we navigate this challenge is up to all of us."
"The second greatest commandment is to love your neighbor as yourself," he said. "We can choose to sacrifice our comfort and convenience–using our freedom to love others."—Allison Althoff Steinke '11