Wheaton College welcomes Lisa Burden, who is serving the College as an Assistant Professor of Chemistry.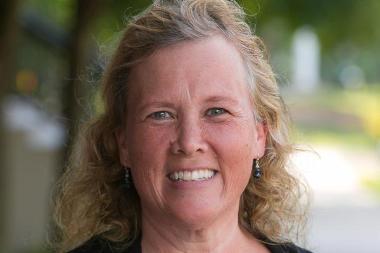 Name: Lisa Keranen Burden
Education:
Ph.D., Biochemistry, Indiana University, 1996
B.S., Chemistry, Michigan Technological University, 1990
1. What was your favorite class in college? Why?
It's so hard to choose only one! I have to say my chemistry labs. I knew I was choosing the right major because I loved doing experiments in the lab. I also enjoyed every math class I took, as well as my History of the Automobile in America and my Literature of C.S. Lewis courses.
2. Before Wheaton, what were you doing?
Before I came to Wheaton College, I worked in a lab at the National Institutes of Health. This experience was exhilarating because there is so much cutting-edge research going on at the NIH. Though I am a new full-time faculty member, I have been teaching part-time at Wheaton College for 20 years prior to being hired into my current position in the Chemistry Department.
3. What big question are you trying to answer through your work?
My research centers on a protein named aHL that comes from Staph bacteria. This protein is a bacterial toxin that assembles in the membrane of a cell and essentially punches a hole in the cell allowing things to leak in and out and eventually causes cell death. Understanding how this protein works enables us to think about ways to treat and prevent Staph infection and spurs us to consider new ways this pore can be useful in making measurements of many kinds.
4. What has kept you busy during the pandemic?
Like most, I have spent the pandemic living closely and constantly with my family. Sure, this can be challenging as we share everything ... including that important WiFi signal! The pandemic has completely changed the way we teach and learn. So, I have spent time developing skills to teach online. I also take walks outside every day and thank God for being in control especially when things seem so out of control.
5. Do you get butterflies the night before the first day of school?
I don't get butterflies, but I do get excited! I enjoy teaching and learning, so I have always looked forward to the beginning of a new school year.
6. What would you have liked to tell the freshman version of yourself about going to college?
These college years go by so quickly! You'll take some classes that will seem pointless, yet each will actually teach you something and help to develop your character. You'll make lifelong friends and wrestle with decisions about your future. You'll mature into adulthood and look back on these days as precious. Don't wish them away. Go to class. Work hard. Invest in people. Don't take yourself too seriously. Thank God every day for the opportunity you have to be a student.
7. When you're not teaching or researching, what do you like to do?
Our family loves baseball. I watch plenty of it on TV with my family (in fact, as I fill out this survey, it is opening day ... finally!) I love supporting my children as they participate in sports, and I enjoy attending Wheaton College sporting events as well. Reading, walking, and chatting over coffee are some of my favorite activities.