Wheaton College welcomes Halie Wenhold-Sinchak, who is serving the College as a Visiting Assistant Professor of Communication.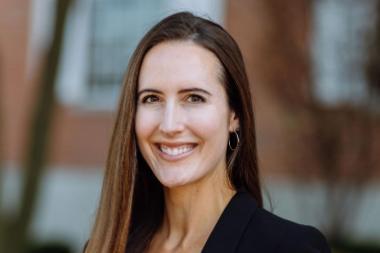 Name: Halie Wenhold-Sinchak
Education:
Ph.D., Communication and Media Studies, University of Michigan, 2019
B.A., Communication (emphasis in Broadcast Journalism) with a Minor in Sociology, Hope College, 2012
1. What was your favorite class in college? Why?
This is definitely an unpopular opinion. My favorite and most memorable class in college was public speaking. It was my favorite because of everything I learned and most memorable because of my constant nerves. While the most uncomfortable part of this experience was watching my speeches back after they occurred, this process helped me learn and grow! Public speaking is about progress not perfection.
2. Before Wheaton, what were you doing?
I finished my doctorate in the spring of 2019 and worked at College of DuPage as an Adjunct Professor in Speech Communication during the 2019-2020 school year. I am currently teaching a virtual summer class at College of DuPage.
3. What big question are you trying to answer through your work?
My research explores how media's presence in a social media permeated culture may impact adolescents' and emerging adults' interpersonal relationships, attitudes, values, and future life expectations. The ongoing question I address throughout my research asks: How do the secular extrinsic values promoted by media coexist or conflict with the spiritual intrinsic values of Christ?
4. What has kept you busy during the pandemic?
I have stayed busy during the pandemic by teaching virtual college classes, working on publications, and virtually attending my small group Bible study. I also take walks multiple times a day to maintain my sanity and get fresh air. Recently, my husband and I have been spending weekends at his grandma's lake house in Douglas, Michigan.
5. Do you get butterflies the night before the first day of school?
Always! I cannot remember a single year that I have not had butterflies prior to the first day of school. However, my butterflies are less nerves and more excitement. I love the feeling of a fresh start at the beginning of the fall semester.
6. What would you have liked to tell the freshman version of yourself about going to college?
I would tell myself that it is more than OK to not know what you want to do as an incoming freshman. In fact, you still might not know what you want to do by the time you graduate or even when you start working your first job. I started college with plans to go into the news industry, but by my senior year I realized God was taking me in a different direction. Following graduation, I worked as a recruiter for two years before pursuing my doctorate. God has a plan for all of our lives when we call upon Him and seek Him with all of our heart (Jeremiah 29:11-13).
7. When you're not teaching or researching, what do you like to do?
I attend a small group at my church and am training to be a small group leader. I also love to take barre fitness classes, read fiction novels, bake cookies, and vacation anywhere warm with a beach.