Wheaton College welcomes Lilianna Quiroa-Crowell, who is serving the College as an Assistant Lecturer in Urban Studies & Anthropology.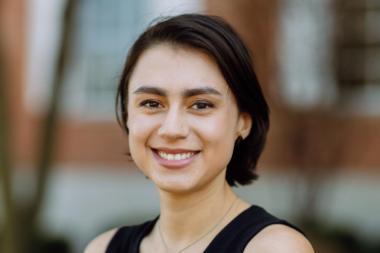 Name: Lilianna Quiroa-Crowell
Education:
Ph.D., The Graduate Center, CUNY, anticipated 2023
M.A., The Graduate Center, CUNY, 2020
B.A., Wheaton College, 2012
1. What was your favorite class in college? Why?
My favorite class in college was during my study abroad in Guatemala. I took a class called "Sacred Landscapes" in which we learned about how the space of Guatemala has been thought about and represented cross-culturally. During the semester we learned about the different symbolic meanings, both colonial and Maya-indigenous, that were inscribed on buildings and public space throughout the city. Besides being incredibly interesting, for our final we had to design and construct an "alfombra," a traditional sawdust carpet, for Holy week in which we incorporated the symbols we had learned about. This class and activity completely changed how I walk through cities and what details I notice!
2. Before Wheaton, what were you doing?
I was living in Brooklyn, New York City and working on my dissertation! I taught anthropology at Hunter College and Fordham University during the school year and visited Puerto Barrios, Guatemala and New Orleans to collect data during the summers.
3. What big question are you trying to answer through your work?
I am researching the Caribbean coast in Guatemala, specifically the Q'eqchi' Maya communities living in and around the port city of Puerto Barrios. This city used to be owned by the United Fruit Company (now Chiquita banana) and still exports over 20,000 tons of bananas per week! I'm trying to understand the relationship between contemporary Indigenous women's political activity and the past and present banana industry, specifically how memories and lingering structures of the banana corporations shape Indigenous political subjectivity. The big question I'm trying to answer is how memory of the past systems of corporations shape the present for Q'eqchi' women.
4. What has kept you busy during the pandemic?
I was living in New York City during the pandemic which was quite challenging. I kept busy by working with my church on organizing community mutual aid groups across Brooklyn. I also bought a bike (which I unfortunately had to figure out how to put together) and took advantage of the closed down streets to explore parts of New York I had never visited!
5. Do you get butterflies the night before the first day of school?
I don't get butterflies, but I do always get nervous right before going into the classroom thinking I mixed up the time or classroom number!
6. What would you have liked to tell the freshman version of yourself about going to college?
I would have told my freshman self to take lots of classes outside of what I was interested in! I left a lot of the required courses outside of my major until my senior year, because I thought I wouldn't enjoy them and was shocked at how much I learned! I would tell my freshman self to really take advantage of the liberal arts environment and take different classes earlier!
7. When you're not teaching or researching, what do you like to do?
When I'm not teaching or researching, I like to travel which one of the big reasons I got into the field of anthropology. I also love to bike and run in order to see new parts of where I'm living that you don't notice while driving by!