Freshman Javian Walter is the first Wheaton College student to be awarded a Fund for Education Abroad scholarship. Walter will use the scholarship this summer on a trip to Germany, France and Switzerland.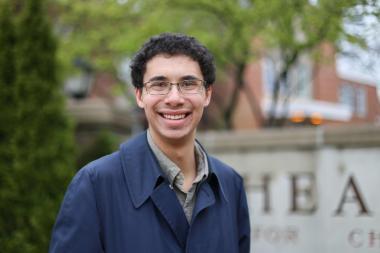 Wheaton College has broadened freshman Javian Walter's horizons.
"I've never actually been out of the country before," said Walter, who was raised in a small town outside of Fayetteville, Arkansas. "Where I'm sitting right now is the farthest away from home that I've ever been."
Now with a newly awarded scholarship from the Fund for Education Abroad (FEA), Walter will get to travel to Germany, France and Switzerland on Wheaton's Printing, Propaganda, and Progress trip. This study-abroad experience, led by Wheaton College Associate Professor of Communication Dr. Read Schuchardt, traces the impact of the printing press on the Protestant Reformation.
"I've always felt a little bit like a fake because I know a lot about a lot of the places in the world, and I could tell you a lot about them, but I've never been there—I've never seen them. It's going to be nice to start seeing them," Walter said.
According to Dr. Schuchardt, who launched this study abroad trip at Wheaton in 2010, there's a huge difference between classroom and experiential learning. "Of course, you can go study abroad and just be a tourist if you don't want to learn anything," Schuchardt said. "But if you're an enthusiastic student like Javian is, with an interest in developing your historical consciousness, then the impact is electrifying. In terms of understanding the context, there is nothing like experiencing our Protestant heritage on the sites where these key events actually happened."
However, study-abroad experiences are often expensive, so getting the funding for them can be challenging. "We became aware of this scholarship just this year, so it was kind of a shot in the dark. That any of our students got it was a thrill—and that Javian got it, I think, was most deserved," Dr. Schuchardt said.
This year, FEA awarded 135 scholarships totaling $406,000. Walter is Wheaton's first recipient of the scholarship.
"This program—and getting the scholarship to help fund it—is not something I expected or anything that I thought would ever happen," Walter said. "And it's only by the grace of God that it did."—Emily Bratcher