Chad Rynbrandt '94 returns to his alma mater after 25 years to serve as the new Vice President for Finance and Operations at Wheaton College.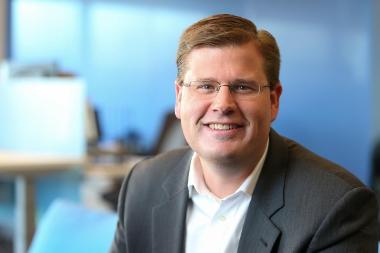 Wheaton College President Dr. Philip Ryken is pleased to announce the appointment of Chad Rynbrandt '94 as the new Vice President for Finance and Operations.
Rynbrandt will manage the finance, operations and business affairs of the College, while also promoting its short- and long-term fiscal health. He will oversee the legal and business practices of the College and guide budget decisions that support the College's strategic priorities. Rynbrandt will serve as a member of the Senior Administrative Cabinet and work closely with the Board of Trustees as the Treasurer of Wheaton College.
Rynbrandt comes to Wheaton College after a 25-year career in leadership roles at companies including Royal Philips, where he served as the North America Head of Strategy and Business Development. In that role, he led the strategic planning and investment priorities for a $6 billion business. Previously, he worked as the Vice President for CSM Bakery Supplies North America, where he built a $55 million business unit. He has also worked for The Boston Consulting Group and Accenture.
Rynbrandt graduated in 1994 cum laude with a B.A. in Business Economics from Wheaton College, where he served as Student Government President during his senior year. In 2001, he graduated with an MBA from the University of Virginia's Darden Graduate School of Business.
Rynbrandt and his wife, Mindy, have three daughters and one son. His twin daughters will join the Wheaton College family as students in the fall.
"I have spent my time since Wheaton in roles of increasing responsibility, helping organizations establish, resource and execute their strategic priorities," he said. "It is a great honor to be chosen to serve my alma mater, a College that empowers and shapes some of the world's most talented Christian young people."
Rynbrandt plans to prioritize the biblical principles of stewardship, excellence, teamwork and service in establishing clear priorities and funding them, requiring an objective, transparent approach to his work, and building accountability in the budget process.
"Chad Rynbrandt brings a wealth of experience and expertise in the world of finance and business operations," said Wheaton College President Dr. Philip Ryken. "His career has been marked by a disciplined approach to finance, and his skill as a strategist will be a significant asset as we seek to address current and future challenges in Christian higher education. We are thrilled that he senses God's clear calling to return to Wheaton College and serve as Vice President for Finance and Operations."
Rynbrandt will start at Wheaton on July 1.