About Wheaton Spaces
At Wheaton College, we believe that each space on our campus tells a story—and that our students give those stories meaning. That's why we're starting a new series called Wheaton Spaces, where we spotlight the spaces that are significant to our students and staff, alumni and faculty.
Pete Willson Wrestling Room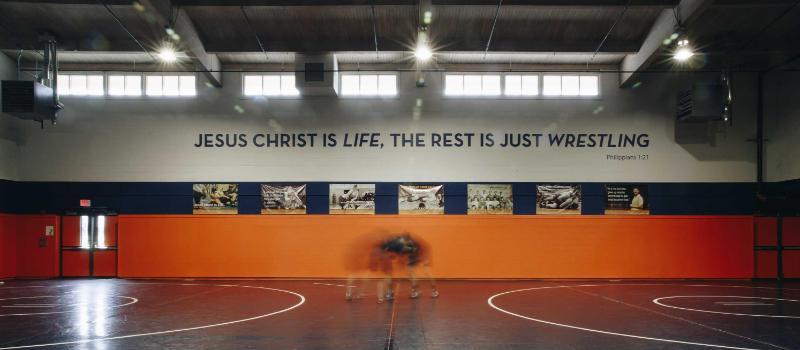 When Wheaton College Assistant Wrestling Coach Frank Aiello '18 first toured the Wheaton College wrestling room as a high school junior, he wasn't impressed.
To reach the tiny, out-of-the-way training room, you had to climb stairs and walk past the Chrouser Sports Center's pool. Wall pads, which protect wrestlers from injury when they're shuffling and tumbling on the mats, were noticeably missing. "There was no branding or anything," Aiello said. "My high school room was actually bigger."
Dark and dimly lit, the space didn't reflect Wheaton's storied wrestling history. Several decades ago when the team practiced in the basement of Adams Hall in a space affectionately called "the Pit," the late Head Coach Pete Willson had athletes compete in 14 NCAA III wrestling championships and won three conference championship team titles. More than a dozen of his wrestlers earned All-American status at the NCAA tournament.
But by the time James Gruenwald, an Olympic wrestler, took the post of head coach in 2009, the team of just seven men was sequestered to a practice room above the pool. For such a small team, the space worked okay, but as the team's numbers jumped to 10 men in Gruenwald second year of coaching—and then 20 men in his third, it became clear that the room was too cramped.
"Guys were literally bouncing off one another because there wasn't enough room to train," he said.
A New Space for Wheaton Wrestling
When Gruenwald approached the administration with the problem, they suggested a space within the recently purchased building that had formerly housed the Wheaton Christian Grammar School.
At 80-by-65 feet, the former gymnasium of the grammar school room was much bigger and three of the walls were padded. "I loved it immediately," Gruenwald said. Alumni donated money to fill it with mats, making it functional for wrestling practice, but it lacked any other frills.
"It had hanging cords, lights that were flickering and heaters that would go out," Gruenwald said. "It looked like Frankenstein's laboratory."
There was also inconsistent heat. In cold weather, that meant that the wrestling mats would harden making the tumbles and falls sustained during practice more painful. If someone accidentally turned the lights off, the team would halt practice, sitting in darkness for 10 minutes as they waited for the power to come back on.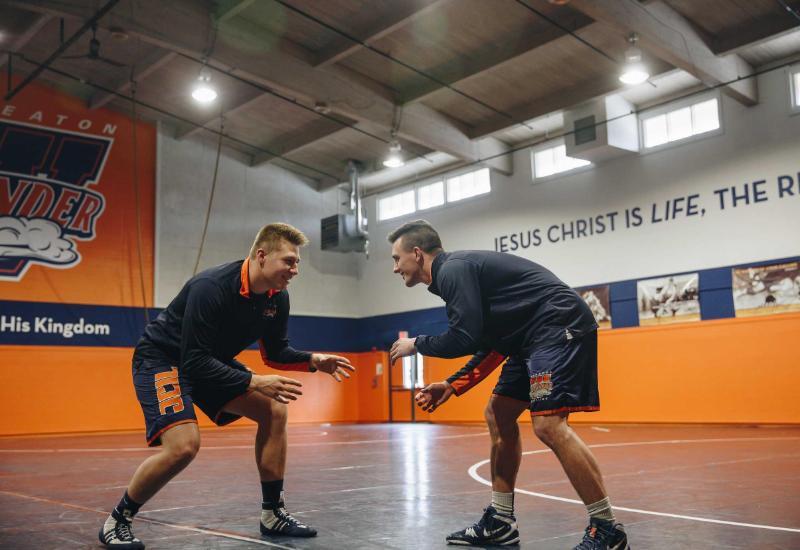 Wheaton Wrestler Max Gierke '19 and Assistant Wrestling Coach Frank Aiello '18
Coach Gruenwald's Vision
Still, Gruenwald had a vision for what the space could be—a place for "blood, sweat, and tears," but at the same time, "a sanctuary"—a space where he could go about the work of coaching and Christian formation.
For Gruenwald, coaching and Christian formation go hand-in-hand. By any measure, Gruenwald has enjoyed a successful wrestling career: He competed in the 2000 Olympic Games in Sydney and the 2004 Olympics in Athens as a member of the U.S. Olympic Greco Roman wrestling team. In 2008, he finished his competitive career as a U.S. National Champion—a title he'd won twice before. But he's not the win-at-all-costs coach you might expect him to be.
Gruenwald's coaching philosophy can be summed up in the wrestling program's tagline: "Jesus Christ is Life. The Rest is Just Wrestling." In other words, wrestling is the means to an end—rather than the end itself.
For Aiello, that goal was clear from day one. While coaches at other schools, where he and his brother Steve were recruited, would hold out promises of wrestling glory, Gruenwald told them: "I want to help you become a strong man of God—one who is going to be a good husband and a good father."
Ultimately, Gruenwald's pitch drew Aiello to Wheaton.
Challenges During Construction
When in 2015, the College approved a plan to update the wrestling room, it was an answer to prayer. But the challenges were far from over. Because wrestling season stretches from October to mid-March, the team practiced in what amounts to a construction zone. "The dust on the mats would be a centimeter thick," said Wheaton wrestler Max Gierke '19. "Sometimes we'd get snow from outside and put it on the mats, and we'd clean the mats with snow," Aiello said.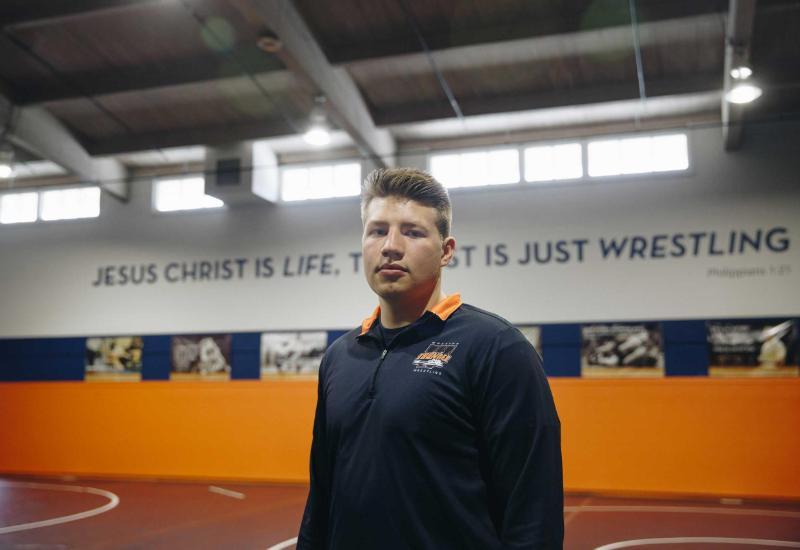 Wheaton Wrestler Max Gierke '19
Without locker rooms, the team would trudge back and forth from the Chrouser Center in the cold. They didn't even have a restroom so the guys would head outside again to use a Porta Potty in often below-freezing temperatures, losing all the momentum and sweat they'd built up during the course of the practice. One time, during heavy winds, the Porta Potty tipped over—and the wrestling team was in charge of the clean-up.
Dealing with the cold and the cleaning that prefaced each practice was a constant challenge. "I kept telling the guys this is a short-term sacrifice for long-term gains," Gruenwald said.
"Jesus Christ is Life, The Rest is Just Wrestling"
By the time the 2015-16 season rolled around, Gruenwald couldn't wait to show the team the result of all their perseverance. The sawdust was gone, revealing clean blue mats. Doors to a 35-person locker room and an athletic training room were conveniently located inside the training facility.
After a two-year construction break, the final touches were applied in the summer of 2018. New wall mats and a fresh coat of orange and blue paint covered the walls including the words: "Jesus Christ is Life, The Rest is Just Wrestling" emblazoned in bold white lettering.
The New Wrestling Room Comes to Life
Very quickly the Pete Willson Wrestling Room attracted the life that Gruenwald dreamt about—a place for strenuous practices but also quiet times of prayer and Bible study, rowdy games of spike ball and concentrated times of homework. Now, Aiello, who became an assistant wrestling coach in 2018, meets Wheaton wrestlers for one-on-one training sessions and he also leads a weekly Bible study in the room. "It's cool to be on the other side now," he said.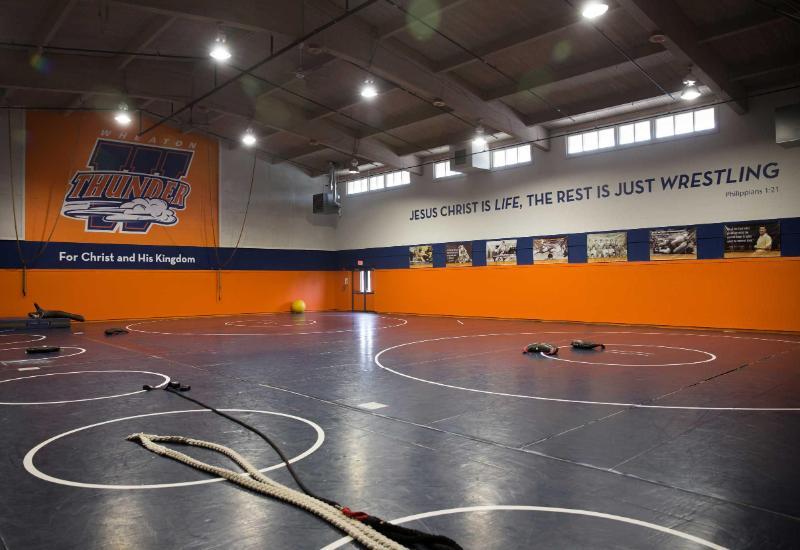 Gierke remembers sitting in the room as his wrestling career came to an end unexpectedly: with a torn shoulder. Over the past year, he'd trained harder than ever before. Wrestling in the heavyweight class the three seasons before, he'd dropped 60 pounds to compete in the 197-pound weight class with an aim to wrestle at an optimized weight.
A torn shoulder right at the end of the season was a nightmare for Gierke, who had wrestled since he was five. All of his years of hard work were ending without the success he'd imagined, but as he sat in the room, he felt a calm settle over him.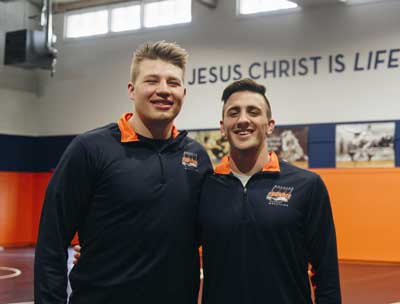 "When my fear was actualized—it happened—I felt this peace with God," Gierke said. "I know that this probably won't be the only time that I'm disappointed but the fact that at the end of it, God has control of my life and loves me and that will never change—it's so reassuring."
Hard-won lessons like these are what Wheaton's wrestling program—and the new wrestling room—is all about, according to Gruenwald. "The new room and branding are extremely helpful to all aspects of the wrestling program—recruiting, morale, accountability, and quality training," he said. "However, I believe the greatest impact is that the new room distinguishes Wheaton Wrestling from other programs by demonstrating a commitment to Bible principles and standard-driven goals."
Story by Emily Bratcher
Photos by Gabi Satola