The Wheaton College Christmas Festival, "Through His Own Redeeming Love," is Friday, December 6 and Saturday, December 7. A limited number of tickets are still available, so get yours today.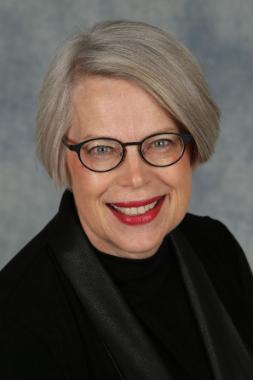 As Music Professor and Director of Performance Studies at Wheaton College, Mary Hopper has helmed the College's beloved Christmas Festival for more than 20 years. Pausing in her preparation of this year's epic performance of nine Scripture readings and 19 pieces of music, Hopper gives us an inside look into what it takes to pull together the Christmas Festival, which will feature well-known carols, such as "Angels We Have Heard On High" and lesser-known songs, such as "Convidando esta la noche."
Where do you even start in planning for the Christmas Festival?
We officially start planning in the spring, but I start brainstorming for the next year right after the Christmas Festival ends. One thing that's always a challenge is finding a new hook—some way to make the event distinctive from years past. This year we're doing "A Festival of Nine Lessons and Carols," which we haven't done in many, many years. We're also trying to involve different groups on campus, so this year, for instance, the Harp Ensemble and the Symphonic Band are joining us. The Percussion Ensemble and Zoe's Feet have also performed in previous years. We've also had guest artists that have come, such as singer-songwriter Claire Holley and bass-baritone Stephen Morscheck.
What is one of your favorite things about planning the Christmas Festival?
The Christmas Festival brings together staff and faculty across campus, and I love getting to work with everyone from Associate Lecturer of Theater and Communication Andy Mangin, who helps me do the tech stuff and Music Producer Brian Porick, who handles all of the sound and light and recording. This year, Associate Lecturer of Art Leah Samuelson is working with a group of art students on creating banners, which will be used during the performances. We've also worked closely with the Marketing Communications team on the overarching theme "Through His Own Redeeming Love," which also ties together with President Dr. Philip Ryken's 2019 advent devotional.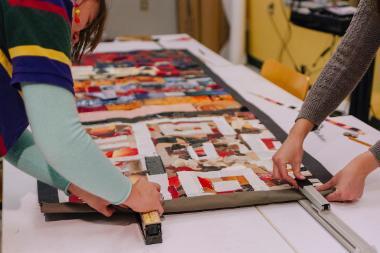 How do you go about choosing the repertoire?
That's also highly collaborative. It involves a lot of work with my colleagues, where we talk about different pieces and ideas and how we might put the program together. Many Christmas pieces are slow—like "Away in the Manger" and "Silent Night." It can be difficult to find upbeat or quick Christmas pieces, but we search for those. We also try to create a balance of a cappella pieces and pieces that incorporate instruments. We want to incorporate a variety of color into the program—so all of the pieces don't sound the same. So this year, the Men's Glee Club is performing a Spanish piece with guitars and conga drums and the Women's Chorale is doing a piece with the oboe and hand bells.
How much time do you spend rehearsing?
Each choir—the Women's Chorale, the Concert Choir, and the Men's Glee Club—rehearses separately throughout the semester. Each choir tends to practice two to three times a week for about an hour and a half. But during the week of the festival, we rehearse every day. On Wednesday, we have our tech rehearsal to ensure everyone knows where they should be and to get sound and lighting checks. On Thursday, we have a videotaped dress rehearsal, which we'll use to incorporate special shots in the video that we release the following year for broadcast. It can be a lot for students who also have finals looming, so I try to keep it so that it isn't overburdensome for them. Also, we don't have any late-night rehearsals. All of our rehearsals are scheduled in the afternoon, wrapping up by 6 or 6:30 p.m.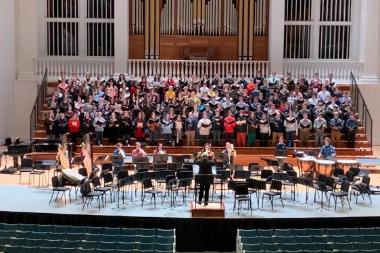 Who participates in the Christmas Festival?
We have three academic choirs at Wheaton College—the Women's Chorale, the Concert Choir, and the Men's Glee Club—so they're the three choirs that are on stage. We also alternate performing with our two instrumental groups—the Symphonic Band and the Symphony Orchestra. This year, we're performing with the Symphonic Band.
I would say we have about 250 to 275 students who participate each year, and they aren't all music majors. Of the students on stage, maybe less than half would be music majors. The Men's Glee Club is probably 90% non-music-majors. Many of my students tell me that this is one of their favorite things to do because we have three performances and a big audience, and it's all very festive. We decorate the stage beautifully.
What is your ultimate goal with the Christmas Festival?
To present the hope of the gospel through the Christmas Festival—that audience members would see on the faces of these students that we believe what we are singing. There are a lot of people that come from our community who don't know the Lord. They come because it's a Christmas concert, but we hope they leave with the gospel.
A lot of people use the Christmas Festival in outreach efforts as well. My pastor is bringing a couple this year that he wants to start a conversation with, and I know others who buy 20 tickets and invite their neighbors. It's really this opportunity for us to speak to the community about Christ.