Student Cassidy Thornburg, who is working as an NBC Sports Chicago intern, credits her family with instilling a love for sports—and Wheaton College for giving her the support and opportunities to pursue a dream.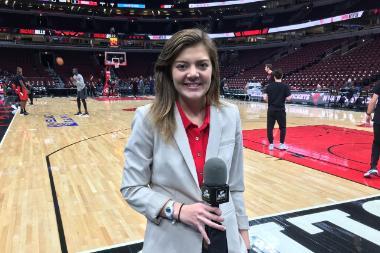 At NBC Sports Chicago, Wheaton College senior Cassidy Thornburg works three eight-hour shifts a week as a production intern, preparing video content as a member of the channel's digital team.
Thornburg, a Communication major with a Rhetoric and Culture concentration, has also written several articles for the station's website this semester.
Of the three shifts Thornburg works each week, the Sunday shift is her favorite. "We watch football all day, and then we talk about it," she said. "There's not much that gets better than that."
Thornburg's love for sports comes from her family. Despite growing up in Southern California—home of the Rams, Raiders and Chargers— she is loyal to the Broncos. Not only does the NFL team play out of Denver, where she was born, but the Broncos are the team her entire family roots for, especially her dad, a high school football coach.
But the Thornburg family didn't just watch sports; they played them. During her childhood, Thornburg played flag football, soccer and softball. She ran track, and continues as a distance runner for the Wheaton Thunder.
Still, when it came time to choose a major, she wasn't quite sure how to translate her love of sports into preparation for a career as a sports reporter.
"I came to Wheaton as an international relations major, moved to elementary education, and then I settled on communication," Thornburg said. "I've had this dream of being a sports reporter since I was seven, but I didn't know how to start going about that."
Then, several classes with Assistant Professor of Communication Dr. Theon Hill helped clarify the way forward. With Dr. Hill's guidance, Thornburg decided on a Communication major and Rhetoric and Culture concentration. She covered sports for the Wheaton Record and as a play-by-play announcer for the Wheaton Thunder Sports Network, where she credits Brett Marhanka and Rusty Lindsey for giving her incredible opportunities, including working as the sideline reporter for the football team. Last summer, she interned with the San Diego Force, a collegiate baseball team.
As Thornburg's internship at NBC Sports Chicago draws to a close, says the experience has affirmed an even more specific version of her dream: she hopes to cover Major League Baseball.
She's grateful for the Wheaton College professors, students and staff who provided the experiences that helped her forge a career path.
"I see where I'm at as more of a testament to the people around me than anything else," she said.—Mika Ro