Dyer Bowers is one of eight students in the inaugural cohort of the Humanitarian & Disaster Leadership M.A. who is finishing the program with a prestigious internship.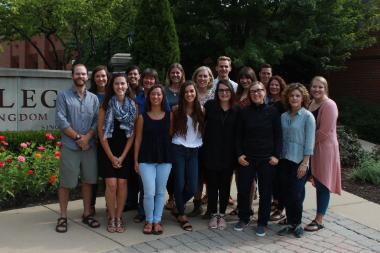 Illinois was one of the last places Georgia-born Dyer Bowers wanted to go. Trading in the beaches of Tybee Island for the long winters in Wheaton wasn't appealing—plus, she had her dream job lined up.
But a year of traveling the 10/40 window with a missions group called The World Race, she felt increasingly drawn to the refugee plight. After a lot of prayer and a leap of faith, she turned down her dream job and enrolled in the new M.A. in Humanitarian & Disaster Leadership (HDL) through the Humanitarian Disaster Institute at Wheaton College.
She's so glad she did.
Bowers is a part of the inaugural HDL cohort, which will graduate after completing a summer internship or special project. She's wrapping up her M.A. with an internship at World Relief Memphis. In fact, each of her colleagues in the HDL inaugural cohort have landed internships at prestigious organizations—and HDI Director Jamie Aten is thrilled about it.
The internships and special projects include placements at the following organizations:
Samaritan's Purse
Federal Emergency Management Agency (FEMA)
Save the Children
World Relief
United States Agency for International Development (USAID)
World Health Organization (WHO)
Nashville International Center for Empowerment
Office of U.S. Senator Tim Scott
Church World Service
At these internships, "they will be able to put into practice all they've learned in this program and take the first steps into what I'm confident will be long careers characterized by compassion for the vulnerable amidst disasters and humanitarian crises," Aten said. "I'm excited to see how God will use each of them in these roles and beyond as they become our first alumni out in the world."
Dyer said she's excited about the possibility of applying the lessons she's learned in HDL to her internship at World Relief Memphis, saying, "I'm looking forward to having my hands in the soil and starting to plant something."
The Humanitarian Disaster Institute launched the M.A. in HDL program in 2018 to "prepare the next generation of humanitarian and disaster professionals to lead with faith and humility, utilize evidence-based practice, and serve the most vulnerable and the Church globally." HDL will graduate its inaugural cohort this summer after each student completes an internship or approved special project.
"It has been such a delight to get to know this group of students both inside the classroom and out, and their extremely competitive internships placements reflect the high caliber of work they're doing and the people they are, as well as the diversity of passions they've been able to develop and cultivate through their time in this program," said Kent Annan, director of the HDL M.A.—Emily Bratcher
Humanitarian and Disaster Institute
HDI is currently accepting applications for its HDL M.A. in multiple, flexible formats, including a one-year full-time option with on-campus courses and a "2 years, 2 weeks" part-time hybrid option that requires two one-week, on-campus intensive courses, with the rest of the course being offered online over the course of two years. There is also the Accelerated M.A. option for current Wheaton students. Find out more information about this program.