The #MyWheaton blog shares first-person stories from Wheaton students and alumni.
Significant Work in Insignificant Tasks
Emma Adent '20 is an elementary education major from Bellevue, Washington. In this MyWheaton blog post, Emma reflects on her time serving as an Office Assistant in the Center for Vocation and Career, a position that she didn't expect would teach her so much about faith.
Little did I know that stapling fruit roll-ups to pieces of paper could be kingdom work.
I have always longed to do impactful work. To prove this, I consult my CliftonStrengths results, in classic Center for Vocation and Career (CVC) style. "Significance" is my fourth top strength, which means that I desire to do work that leaves an impact. This is also apparent in one of my main motivations for becoming a teacher. We've all had those teachers in our lives where we can recall moments in their class where we felt especially loved, validated, encouraged, or inspired. I dream of meeting students in my distant future who come back to me and say, "It was because of you, Ms. Adent, that I felt inspired to…" insert astounding achievement here.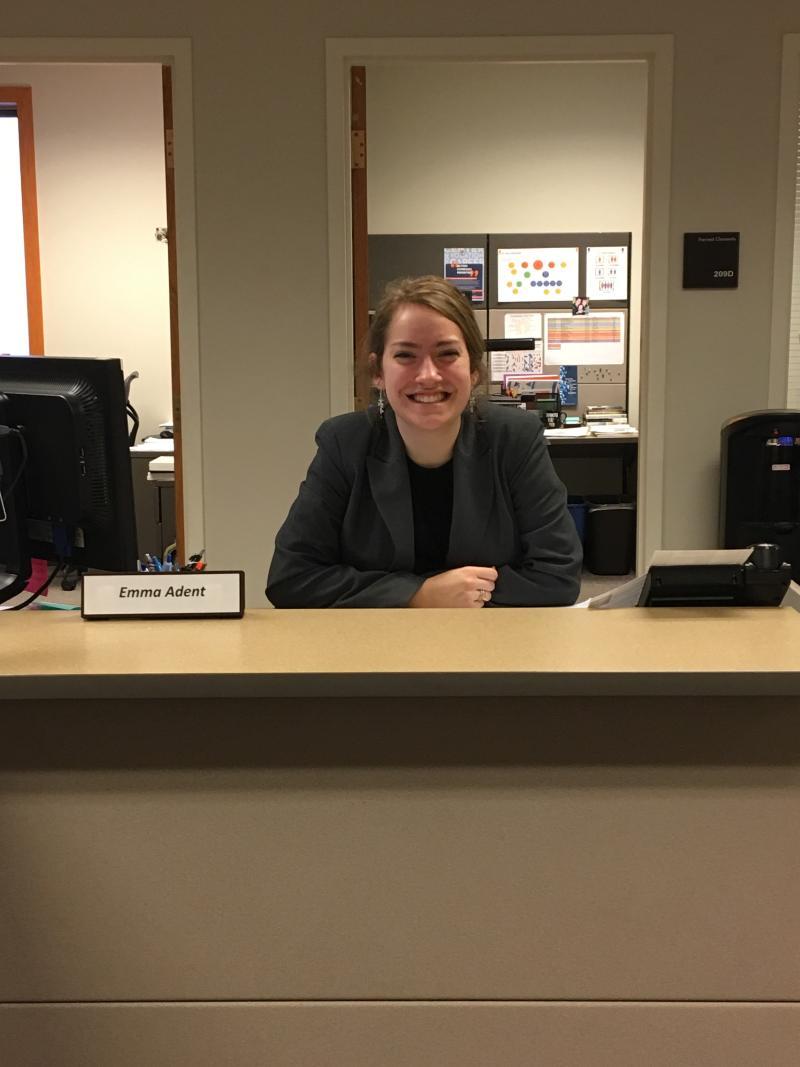 This desire drives a lot of what I do. Most of the time, I would like to say that it is a positive motivator. Like many Wheaton students, I dream of doing great things, not for myself, but for Christ and to further his kingdom. During my freshman year, I saw all the wonderful ways to get involved on campus and saw team after team of student leaders doing incredible things on campus to serve those at Wheaton, in the community, and around the world. Like many on campus, I looked up to these leaders as I still do now. For me, they have served as an inspiring example of the kind of an impact I hope to have on this campus. And by this, I don't mean that I believe I need to read the scripture during chapel or be the president of College Union to have a sufficient impact on the campus community. But the attractive part of these positions is that the work has direct results. It's often clear and easy to see the impact these people have from the work they do.
So thus begins my saga with how I found my job at the Center for Vocation and Career (CVC). Spring semester of my sophomore year rolled around and with it came the seemingly desperate need to find something to be involved in. The end of my position as a Community Life Counsel (CLC) in Smith-Traber was fast approaching and I wasn't ready to give up this role and the team that became so integral to my story at Wheaton. In the search for another campus community to belong to the following year, I had no idea where the Lord wanted me. CLC had been such a clear call the year before, so I wondered where my "perfect position" for Junior year was hiding.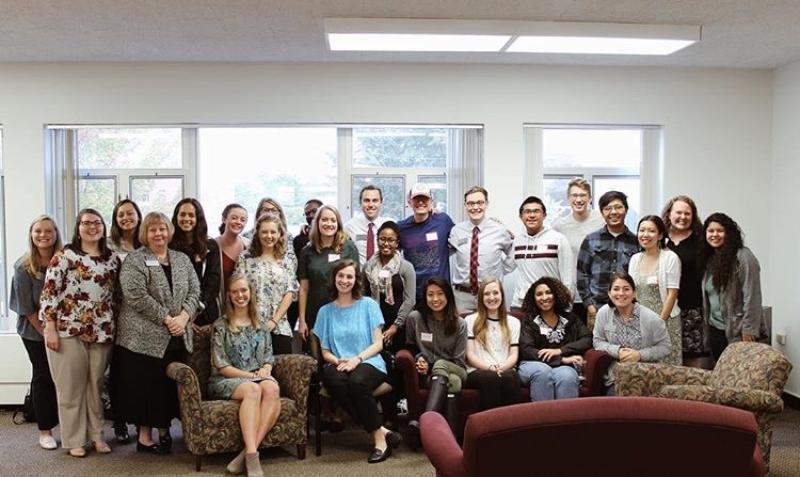 Closed door after closed door, I walked into the last two weeks of schools unsure of what God wanted me to be doing with my junior year. At this point, I was just scrolling through Handshake looking for jobs on campus. I found a position for an Events Intern in the CVC and I knew this was my ticket! I had loved event planning while I was a CLC and I thought this role would be the perfect fit! I was so excited! Lord, thank you, thank you! I finally found what He wanted me to do! My skills in administration, my love of bringing people together set me out to be a perfect fit for this position, or so I thought. It turned out that right as I had applied, they selected someone else for the position. Instead, they suggested that I apply for an open position as an Office Assistant (the role I have now).
Being an Office Assistant in the CVC has been nothing but a wonderful experience. First, the people that I work with are nothing short of incredible. Full-time staff and student workers alike have welcomed me into their community and sought to utilize my unique gifts and encourage me in my goals to become a teacher. Second, getting to welcome people into the office, answering questions and getting to meet new students, alumni, and employers have been such a joy.
I enjoy using my gift of hospitality to welcome people into our space. Third, I have received validation in my desire to become a teacher as an equally significant and valuable job to the already high paying and professionalized jobs that are often more closely associated with the CVC. The CVC has resources that are applicable to everyone in searching for and getting jobs, and in helping one represent their skills, strengths, and accomplishments well. But I have learned so much more than networking skills or the ins and outs of a moody copier during my time so far in the CVC.
I distinctly remember a meeting we had as a whole office, full-time staff and student workers—the latter greatly outnumbering the former. The full-time team consistently expressed their thanks to us as students who enable them to do their jobs. The CVC would not be able to run without their student workers. I struggled to see this truth as I often focused too much on the seemingly mundane tasks that made up so much of my job, like shredding paper or distributing mail.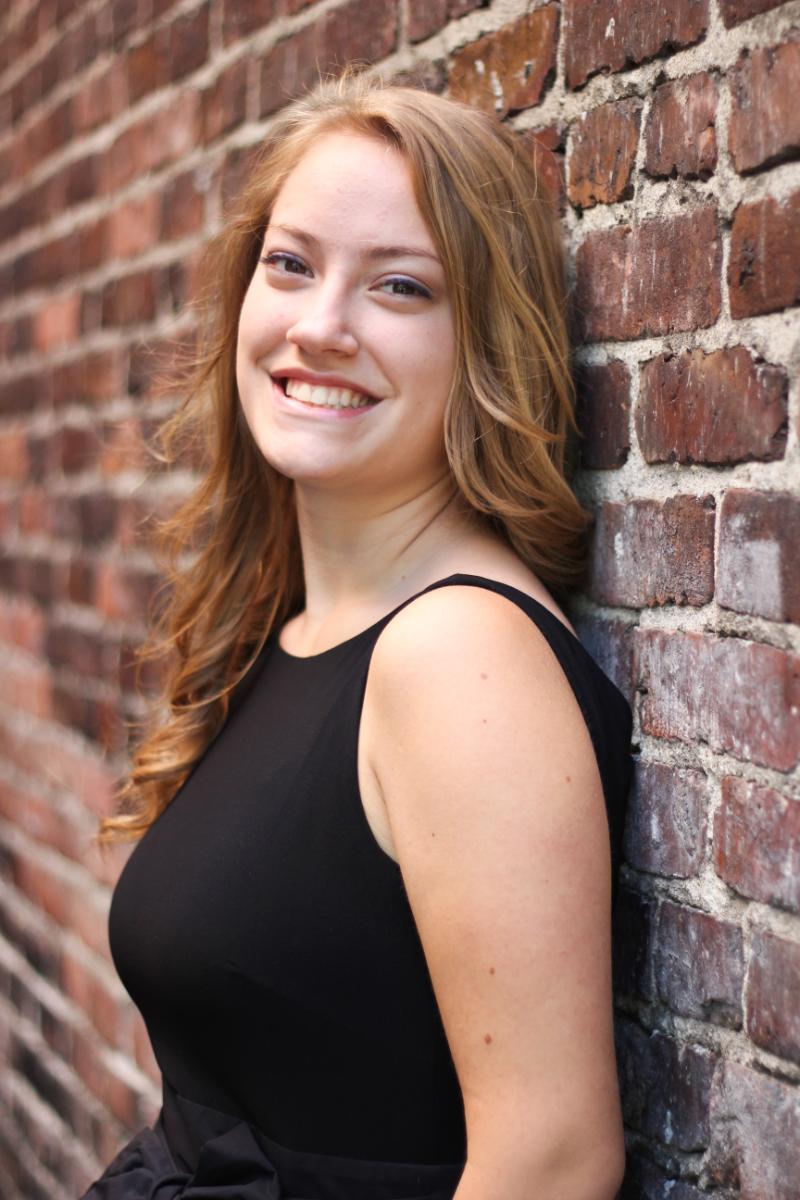 This began the shift of my perspective from seeing my work as a checklist of busy work to opportunities for me to serve and be a part of the significant work that the CVC does at Wheaton. Same list of daily tasks, two completely different perspectives. The choice is mine: to get lost in the seemingly mundane moments of my job or seize the opportunities to love and serve the CVC and the incredible work that they are doing. In the little things I do, I am indeed a part of something bigger. I need only readjust my perspective to see the bigger things that God is doing.
Further into my time as an Office Assistant, I have been reminded that the gifts and talents I have are not mine to decide where or how often I use them. God made me the way I am with the unique gifts and talents I have, so I can do his work for his glory. It is in God and through God that I can have a job where I serve in the ways that monopolize on my strengths so that I can support others whose strengths lie in other areas. Seeing my organizational skills or my love for hospitality as things that I have built up in myself is taking credit for the work that the Lord has done. I have been learning to see these passions as gifts from him to be given freely to others, instead of keeping them for my own benefit.
God never fails to teach me things even in the seemingly mundane moments of life. Being faithful in the mundane seems like a theme of my life's story, not because I am good at being so, but because it is often in the mundane moments that I see God working the most and those are the moments where it is the hardest for me to be faithful to what the Lord is calling me toward. Regardless of my begrudging attitude or failure to do the little things in life that God calls me to, He is faithful in remaining present in my life, teaching and instructing me in righteousness for my sanctification and His glory. Praise God for that. Even in the seemingly mundane tasks of life, there is significant work to be done.