The FEBC-Korea Children's Choir is coming to Wheaton College on April 25. Don't miss the FREE concert, which begins at 7:30 p.m. in the Billy Graham Center's Barrows Auditorium.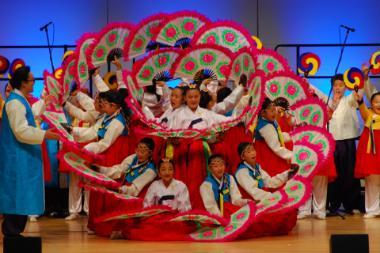 On April 25, Wheaton College will welcome the FEBC-Korea Children's Choir, a ministry of the Far East Broadcasting Company (FEBC), which seeks to spread the gospel of Jesus Christ through the use of technology.
Established in 1991, the FEBC-Korea Children's Choir is comprised of 11 different choirs based in cities ranging from Seoul to Daegu. Each choir consists of about 50 children, ages 9-13. The Busan-based choir will start its spring tour in Wheaton, moving on to perform in Asheville, North Carolina, Atlanta, Georgia and Washington, D.C., among other destinations.
Dr. Billy (Jang Hwan) Kim, pastor emeritus of Suwon Central Baptist Church and chair of FEBC-Korea, who will accompany the choir, has a long-standing relationship with Wheaton College. Dr. Kim translated Billy Graham's Seoul crusade, receiving an honorary doctorate from Wheaton College in 1973 for his work. The College also has a scholarship fund—the Dr. and Mrs. Billy and Trudy Kim Endowed Scholarship—given to Korean students.
Both Dr. Kim and the choir have visited campus several times, and Wheaton College President Dr. Philip Ryken has also traveled to South Korea to strengthen the relationship between the College and this ministry.
"We are delighted to welcome Dr. Billy Kim and the accomplished FEBC-Korea Children's Choir," said Dr. Michael Wilder, dean of the Conservatory of Music. "It was our honor to collaborate with Dr. Kim and FEBC in a South Korea tour of the Wheaton College Concert Choir in May of 2017. Lasting memories from that collaboration fuel our enthusiasm in again welcoming these wonderful partners to Wheaton and the United States."
The free concert, which takes place on April 25 at 7:30 p.m. in the Billy Graham Center's Barrows Auditorium, will feature a range of hymns and songs in English and Korean.
Audience members will love the singing of the FEBC-Korea Children's Choir, according to Dr. Wilder, who said: "Their faces and voices will bring a smile to your face, just as they surely do the face of God."—Emily Bratcher