Wheaton College students advance to the 2019 American Moot Court Association's National Tournament, proving they know how to argue their case.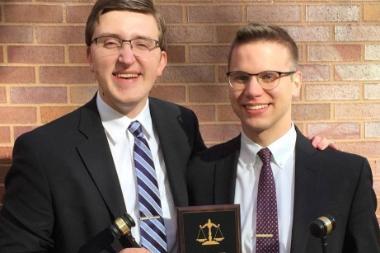 Wheaton College students Joel Erickson and Tyler Long advanced to the 2019 American Moot Court Association's National Tournament after their good showing at the Windy City Regional Moot Court Tournament last month.
"As one of only five teams competing in the Windy City Regional Moot Court Tournament invited to the national tournament, Tyler and Joel demonstrated their mastery of appellate advocacy and represented Wheaton College well," said Wheaton College Volkman Associate Professor of Business and Law Stephen Bretsen.
Long, who has a biology major and a chemistry minor at Wheaton, plans on pursuing a career in medicine. Although he said some might consider his interest in moot court strange, he explained: "I love competing in the debate because it trains me to think analytically. That's the whole purpose of appellate law, and it equips me to actually be very distinctive in medicine. … A lot of people don't like public speaking."
Erickson is majoring in philosophy and currently deciding whether to pursue law school or graduate studies in philosophy.
"Appellate advocacy in the context of a moot court tournament involves researching precedent, developing and drafting legal arguments, and then orally presenting those arguments while being interrupted by questions from the judges," Bretsen said. "Students are required to draw on all the skills provided by a liberal arts education to both think carefully and deliberately and to think fast on their feet."
Because of scheduling difficulties, Long and Erickson won't be able to attend the oral-argument portion of the national tournament, held in January in Orlando, Florida. However, they are submitting their work to the tournament's brief-writing portion.
For both Erickson and Long, advancing to the national tournament together was especially meaningful since the pair have known each other since high school. "It was a blessing to accomplish this goal together," Erickson said.