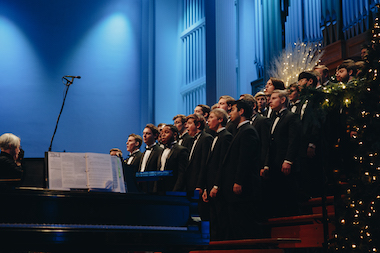 Hundreds of Wheaton College students performed in "Blessed Son of God," Wheaton College's 2018 Christmas Festival Concert on December 7-8. The College's Concert Choir, Women's Chorale, Men's Glee Club, Symphony Orchestra, Percussion Ensemble, and Zoe's Feet, a dance ministry, all played a part in this year's performance. This annual event is presented by the Wheaton College Conservatory of Music.
Audience members joined in singing five of the songs, including the closing hymn "Silent Night," in which choir members stepped from the stage and crowded the Edman Memorial Chapel aisles, encouraging the sing-along.
"People love to sing these songs," Wheaton College Professor and Festival Artistic Director Mary Hopper told the Daily Herald. "They're just beautiful."
Although there's nothing like experiencing the thrill of the show as an audience member, here is some information about watching Christmas Festival performances from previous years.
Conservatory of Music
The Wheaton College Conservatory of Music provides students with comprehensive instruction that cultivates creativity, proficiency, and achievement in a Christ-centered environment. Find out more information about the Conservatory.