Why earn a Master's of Arts in Teaching at Wheaton College?
The MAT program at Wheaton College has been recognized for its excellence and distinction. It boasts an outstanding teacher education program which is nationally accredited by the Council for the Accreditation of Educator Preparation (CAEP) and by the Illinois State Board of Education. It won the Models of Excellence Award for 2004, which is given to an exemplary teacher education program in liberal arts colleges (See distinctives for more information). In addition, unlike MAT programs in some institutions, Wheaton provides a unique opportunity for pre-service teachers to engage in an action research project, which helps them to be a teacher-scholar who can effectively deal with the issues and challenges in a classroom context.
What about a job prospect with an MAT degree?
The employment rate of our MAT program completers has been consistently very high. For the past five years, more than 93 percent of our MAT graduates were hired, mostly in the teaching profession.
According to Bureau of Labor Statistics Occupational Outlook Handbook (2012-2013 Edition), employment of elementary and middle school teachers in the U.S. is projected to grow 12 percent from 2012 to 2022. Although it may vary be region, employment of high school teachers is projected to grow 6 percent from 2012 to 2022. Employment prospect is especially brighter for teacher candidates in the certain subject areas, such as math and science. Employment growth in teaching position mainly results from retirement of teachers, declines in student-teacher rations, and increases in student enrollment.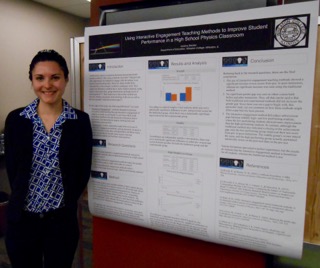 To earn a teacher license through the MAT program, which undergraduate major should I have?
You should first decide which type of teacher license you want to earn. Three types of initial teacher license programs are available: Initial Elementary (grades K-9), Initial Secondary (grades 6-12), and Initial Special (grades K-12). If you want to earn an Initial Elementary license through the MAT program, you should have a bachelor's degree that includes a liberal arts major or its equivalent. You may contact the MAT coordinator to check whether your undergraduate major is acceptable for acquiring an Initial Elementary license.
To earn an Initial Secondary License through our MAT program, your undergraduate major should be one of the following state-approved subject areas: English/Language Arts, Mathematics, Science (Biology, Chemistry, Earth and Space, or Physics designation), and Social Science (History designation). If your undergraduate major is not identical to one of these subject areas, your transcripts will need to be reviewed by our MAT program coordinator in order to determine the eligibility of applying for a teacher licensure in secondary education.
To earn an Initial Special professional educator through our program with a world language, your major should be in one of these world languages (French, German, Spanish, Mandarin Chinese).
Starting in 2018, the State of Illinois does will require a separate teaching license for middle schools. Presently a middle grade endorsement (grades 6-8) can be added to any of the three initial teaching licenses listed above.
Does the MAT allow one to earn both a master's degree and teacher licensure?
Yes, our MAT program enables you to earn both an Illinois Professional Educator License (PEL) and a master's degree.
What is the typical length of the program?
The Accelerated MAT program will take an additional year after a bachelor's degree is awarded at Wheaton College. The length of the General MAT program varies depending on the types of License and subject areas (for secondary education). While an elementary teacher candidate can complete the program as early as in four semesters, a secondary or special teaching candidate can finish the program as early as in three semesters. For more information, refer to the specific sequences of the program.