Ingrid Dyk Heres '15 speaks to Allison Althoff Steinke '11 about working as a disaster response contractor in Italy during the COVID-19 pandemic.
"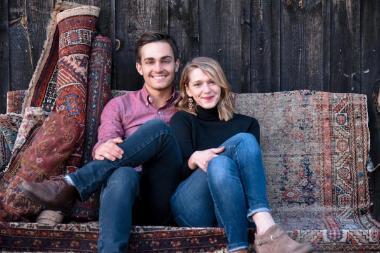 I work as a disaster response contractor in an organization that responds in the wake of global emergencies. My husband, Jordan Heres '15, works as a medical operations manager in the field with me.
I am on call to deploy on short notice whenever a response is initiated. I serve in a variety of roles on these responses, but specialize in administration for our emergency field hospitals. The job requires flexibility and versatility so there is nothing "normal" about it!
On this particular response for coronavirus, I am the administrative and human resources manager at our emergency respiratory care unit in Italy. In mid-March 2020, I received a call to deploy with the hospital when Italy was overwhelmed with COVID-19 patients. The day after I received the initial call, I joined a team of 30 others to fly out with the field hospital to construct and begin operations.
Three days after arrival, setup was complete and we opened the hospital to our first COVID-19 positive patients. We were invited to this region by the government to support the local hospital as they were overwhelmed with hundreds of COVID patients. Our additional surge capacity allowed them to give better care and reopen some services to non-COVID patients.
Working in HR and admin, I cover a variety of duties to keep our field hospital operational including building a team of local hires to staff the unit and organizing all of the travel logistics of our mostly medical team. We work every day from morning until night, with most days pushing 14 hours. My goal is to support the medical staff in any way possible to relieve the stress of their job—whether it is ensuring they have capable translators where needed, arranging a comfortable bed to sleep in, or preparing them for travel.
I was talking with some of my best friends from Wheaton recently and realized that what makes this time in the world so different is that for once, the rest of the world is on "my page." As someone who spent the last five years working in post-disaster settings (hurricanes, warzones, refugee crises, and regions hammered with infectious disease), this pandemic does not disrupt my normal routine as much as it might others. I am used to being upended and am relatively comfortable with the unknown. For the first time—although I am not glad for this—my family and friends are sharing similar disruptions and unknowns.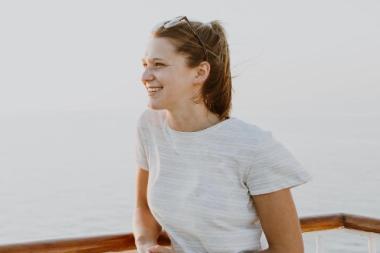 At Wheaton, I realized that my vocation is not tied to a specific job or to achieving "success" in life. Instead, my calling and vocation is to love God and to love my neighbors. This is something that can and should be done in the most ordinary moments and places, as well as spaces at the margins. God has gifted me with a job that allows for a bit of both!
I hope to use my talents for God regardless of location or job. Wheaton College strengthened this value in me and gave me a framework through which to translate my giftings into fruitful work. More specifically, my anthropology degree prepared me to navigate cross-cultural work well. In my disaster response work, we have to hit the ground running and often lack time to research or ease into cross-cultural settings. I am often launched into new cultures with very little warning and have to figure out how to work well with new teammates from many backgrounds.
If I have any words of encouragement for the Wheaton family reading this profile as we face the future, it's to love your neighbors! This is a scary time and the world is eager for hope. Kind words, creative care, and thinking first of others will go a long way.
Also, send thanks to your local healthcare workers. We have had an overflowing of support from the community here (think chocolate, pizza, cards, and coffee), and it always lifts our spirits. It is amazing how much it means to our team to know that the community is on our side and cares about what we are doing.
This time exposes the things that we cling to for security. While being detached from these disordered loves may hurt, God in his grace has given us a beautiful opportunity to find our identity more fully in our Loving Father."
--As told to Allison Althoff Steinke '11 by Ingrid Dyk Heres '15