All incoming first-year and transfer students are welcome to register for a free, one-credit Wheaton College course addressing "Living and Learning in the Time of COVID-19."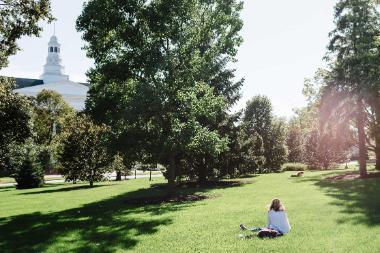 How should Christians respond to the global COVID-19 pandemic? How can they be agents of social good in a time of social distancing? How can they thrive in the midst of worldwide distress? How should they consider everything from studying the liberal arts to the goodness of God in the face of widespread sickness and economic downturn?
To address those questions and more, Wheaton College is hosting "Living and Learning in the Time of COVID-19," a free one-credit course, open to all first-year or transfer students. Starting on June 1, the course will run for five consecutive Mondays in June, from 6-8 p.m. CDT. Students can register now for the course here, and they will be sent the syllabus on May 25.
"This is such a remarkable time to be a student," said Wheaton College Provost Dr. Margaret Diddams. "We wanted to create a one-credit course where we could address perhaps the most important crises that students are likely to be part of in their lives and to do so in a liberal arts format where we are examining the issues and our own responses through multiple lenses—what we like to call 'shared inquiry.'"
Each Monday evening in June, Provost Diddams will moderate a forum of three Wheaton professors from an interdisciplinary cross-section of academic fields to provide instruction on the following themes:
June 1: The Urgency for Learning During COVID-19 - The importance of studying the liberal arts to prepare for a life of service and faithfully navigating a troubled world.
June 8: The Longstanding Challenge of Infectious Diseases - The historic role of the Church in serving others during plagues.
June 15: God's Providence in the Face of Evil - A Christian theology for suffering and lament.
June 22: The Church and the Christian Response to the Coronavirus - Christian response with tangible acts of mercy and justice, reflecting God's goodness and moving forward with hope.
June 29: Flourishing During Difficult Times - Practices to foster resilience and growth, even during trying circumstances. Caring for ourselves and others in the midst of the pandemic as a new college student.
The course will be delivered via Schoology and will feature a combination of lecture, question-and-answer, and breakout discussion. To receive credit, students should participate in four of the five sessions and turn in a three-page reflection on what it means for them personally to live and learn during COVID-19.
Along with getting to know some of their future classmates and professors, Provost Diddams hopes students will walk away from the course with both an understanding of pandemics and why COVID-19 is particularly dangerous and an understanding of God's presence in the midst of large-scale suffering. She also wants students to catch a vision for why the liberal arts are crucial in addressing the complex issues of the day and how they can grow in resiliency as they enter college during a pandemic.
Above all, she prays they will be bolstered in their faith.
"I want students to be strengthened in their own walk with God," Diddams said. I want them to know that the Church has faced pandemics before. I want them to think about how they can be part of a very long history of being Christ's eyes and hands during world crises."—Emily Bratcher