Composer David Hamilton '86 arranged "The Prayer" for a benefit featuring Lang Lang, Andrea Bocelli, Celine Dion, Lady Gaga and John Legend.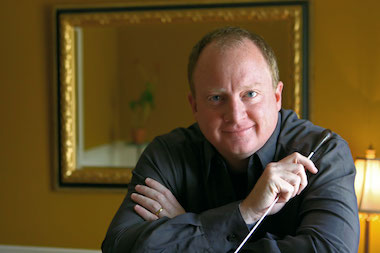 At 5 p.m. on Palm Sunday, Wheaton College Conservatory alumnus David Hamilton '86 opened an email from the manager of the world-famous classical pianist Lang Lang asking for help. Could Hamilton create an arrangement of the song "The Prayer" within 24 hours?
Lang Lang had been enlisted to perform the song with singers Andrea Bocelli, Celine Dion, Lady Gaga, and John Legend on an upcoming special broadcast One World: Together at Home, aimed at inspiring unity and raising money for the COVID-19 relief effort.
Song arrangement—the art of taking an existing song and preparing it for a specific performance— is its own special art. It involves both technicality and musicality, balancing the technical skills of the performers with the melodiousness the songwriter intended, and complying with specifications like song length. Arrangements are not to be rushed.
Still, Hamilton immediately said yes.
"I was thrilled with the opportunity to be involved," Hamilton said. "I just took a few deep breaths and then got to work."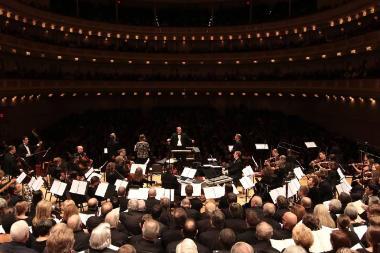 Nashville-based Hamilton, who studied Piano Performance, composition, and conducting at Wheaton, works in various capacities--arranger, producer, composer, and conductor—for organizations ranging from Brentwood Baptist Church, where he serves as a lay leader and often conducts the choir, to Disney, where he sometimes conducts the orchestra sections. He's arranged pieces for Lang before, including his 2014 Grammy performance with the rock band Metallica, and he's used to working under tight deadlines.
After the Sunday evening email exchange, Hamilton refamiliarized himself with the classical-crossover song, "The Prayer," written by David Foster, Carole Bayer Sager, Alberto Testa, and Tony Renis, which was first recorded in 1999. Monday, he worked from morning until evening, messaging back and forth over WeChat with Lang Lang, who was quarantined in his Shanghai apartment. By the evening on April 6, Hamilton had created a demo that Lang Lang and the singers could use to rehearse.
Under normal circumstances, Hamilton would ask local singers to record the vocal parts for the demo in his home studio. But given COVID-19 shelter-in-place orders, he had to do it himself. "I had to sing the Italian on a demo that was given to Andrea Bocelli," he laughed.
Hamilton handed off the demo on April 6. On April 18, he watched performances by artists including Billie Eilish, Chris Martin and Kacey Musgraves on the One World: Together at Home virtual broadcast. "The Prayer" closed out the show.
To date, the benefit concert has raised $35 million. The performance of "The Prayer" has garnered close to 7.5 million views.
"I was really grateful the way it turned out—the show was very positive in supporting those on the front lines and raising money," Hamilton said. "I was thrilled to be a part of it."
Hamilton is also thankful for the platform this opportunity—and his career—has given him to share his faith.
"I'm trying to let my faith impact my work and world in whatever small way I can," he said. "This is something I'm grateful for learning at Wheaton."--Emily Bratcher