When Wheaton College announced it was moving to distance learning for the rest of the semester because of the coronavirus pandemic, Associate Professor of Art Cherith Lundin and Studio Associate Sheldon Till-Campbell had to figure out how to move Lundin's woodblock printing course online.
"When I heard the news, this was the class I was most worried about, both due to the technical nature of the class and because of the large community-oriented bird project we had planned," Lundin said. "The students were really invested in this project, so it was a huge disappointment to not be able to bring it to fruition according to our hopes and plans."
Originally, Lundin had planned for students to collaborate with the Biology Department on large prints of birds referenced in the Bible for display in the Meyer Science Center using relief printing.
Relief printing—a form of printmaking used in the course—is the process of transferring an image from a carved woodblock or other material onto paper. "It's a communal and collaborative art form," Lundin said. Traditionally, it's done in a workshop setting—a collaborative atmosphere Lundin seeks to recreate in her class.
And printmaking involves equipment. After woodblocks are carved, they're inked and sent through a 1,000-pound printing press with paper. "Not everyone has a printing press at home," Till-Campbell joked.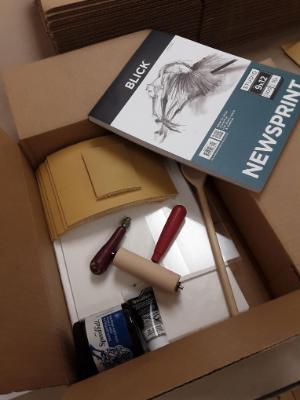 To solve these problems, Lundin and Till-Campbell brainstormed, researched, and devised a method that would allow students to use wooden spoons to rub their woodblock carvings onto paper.
Within a few days, the pair had packed boxes filled with paper, ink, rollers, linoleum blocks, carving tools, and wooden spoons and mailed them to students across the country.
Lundin placed a print of a collaborative work the students had completed earlier this semester in each box.
"It was a pretty cool communal project they'd made just to kick things off at the beginning of the semester," Till-Campbell said. "With the situation being what it is, the sense of community and presence with one another has been broken. So the project reminds them of the community that was built."
While Lundin and Till-Campbell were able to pivot quickly from the challenge the printing press posed, the challenge of building community and collaboration remotely is still a work in progress.
"On our first day of online classes, we spent the morning on Google Meet rethinking the parameters of the project: who is our community now, what are their needs, and what will the new project format be?" she said. "We've re-tooled, though, and found a way to rethink the bird project conceptually and materially. Luckily, relief printing is something that can be done with simple materials."
As Lundin, Till-Campbell, and their students examine medieval bestiaries and prayer books to inspire their retooled collaborative bird project, they're in conversation with one another, bouncing ideas off one another, building community one remote meeting at a time.—Emily Bratcher