Pioneering Historian Enhanced the Credibility of Evangelical Scholarship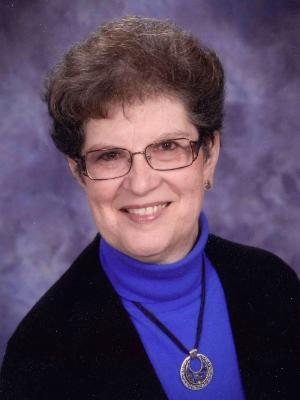 Professor of History Emerita Dr. Edith Blumhofer, a leading historian of American religious history, died March 5. Dr. Blumhofer had lived with cancer for the past few years.
Blumhofer was a Harvard-trained historian who was widely respected for her expertise on topics including Protestant hymnody, Pentecostalism, and American revivals. Her many books and journal articles include the highly regarded biographies Aimee Semple McPherson: Everybody's Sister and Her Heart Can See: The Life and Hymns of Fanny J. Crosby.
"Edith Blumhofer is rightly considered among the greatest historians of her generation," said Wheaton College President Dr. Philip Ryken. "Wheaton College benefitted greatly from her erudition, lively teaching, intellectual rigor, and pioneering leadership."
Dr. Timothy Larsen, McManis Professor of Christian Thought, said Blumhofer was among a generation of evangelical historians, including Mark Noll and George Marsden, whose scholarship broke through into the wider academy.
Blumhofer pioneered the study of Christians whose theology and practices had not yet received serious historical inquiry.
"She took Pentecostals, charismatics, holiness Christians--a huge amount of evangelicals who weren't being discussed in the history and in the literature--and brought them into the conversation," Larsen says. "She also pioneered the importance of women's history, and wrote beautiful biographies. She changed the way that the wider world of historians saw evangelicals and put it on a very credible academic footing."
Blumhofer taught at Wheaton from 1987-1995, and again from 1999-2017. She continued to teach courses following her retirement.
She also directed the Institute for the Study of American Evangelicals, which facilitated the academic study of the evangelical movement and interpreted its nuances for academics and the general public.
Arthur F. Holmes Chair of Faith and Learning and Professor of History Dr. Tracy McKenzie said that Blumhofer highlighted the scholarship of others through the many edited volumes she produced.
"She had a gift for building relationships with scholars and bringing them together at conferences, then eagerly translating their work into collections of essays or other projects," McKenzie said. "That's a contribution that takes place behind the scenes, and it led to really important publications."
Associate Professor of History Dr. Melissa Harkrider described Blumhofer as "A wise and supportive colleague and mentor to faculty and students in our College community and the broader church." Harkrider said that in addition to her scholarship, Blumhofer was known for her thoughtfulness, warm encouragement, and hospitality, which included hosting annual Christmas dinners and bringing homemade cookies to share after department chapels.
In a chapter of the book Liberal Arts for the Christian Life, Blumhofer reflected on how belief in God can shape a person's worldview.
"The Christian intellectual tradition is grounded in the triune God—Father, Son, and Spirit," she wrote. "The existence of the living God liberates us from all merely human worldviews by giving us a true perspective on everything. This is because God has more than a point of view: he has a complete view."
"As the Creator who made all things and the Savior who is redeeming all things through Jesus Christ, God is the ultimate frame of reference for all human thought and action," she continued. "When we begin with God, we have the proper starting point for seeing the world the way it really is."
Dr. Blumhofer's family includes her husband, Edwin, and her children Jonathan '02, Judy '03, and Christopher '05.
A visitation will take place on Monday, March 9 from 4-8 p.m. at Hultgren Funeral Home in Wheaton, and a funeral will be held on Tuesday, March 10 at 7 p.m. at New Covenant Church in Naperville. Additional services will be held in Brooklyn, N.Y., her hometown. –LaTonya Taylor