Dr. Amy Black presented at the National Press Club in Washington, D.C.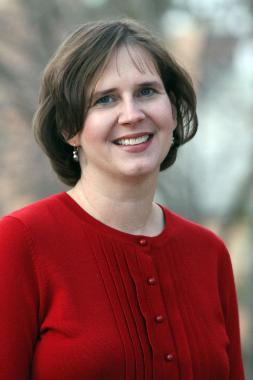 A new report co-authored by Wheaton College political scientist Dr. Amy Black challenges the dominant media narrative about Christians' contributions to a society that is socially and politically diverse.
The report, "Christianity, Pluralism, and Public Life in the United States: Insights from Christian Leaders," was released last week by The Trinity Forum. Black co-wrote the report with Michael Wear, a senior fellow at the organization. They presented their findings in a panel discussion at the National Press Club.
Black and Wear interviewed more than 50 leaders from Catholic, mainline protestant, evangelical protestant, historically Black church, and Orthodox Christian traditions to learn their views on Christianity, pluralism, and public life.
Their report concluded that, while sharp fragmentation is a reality of American political life, Christian leaders shared a broad consensus about the value of a religiously, racially, and ideologically diverse society in which multiple points of view are respected.
"It was surprising how overwhelmingly supporting these Christian leaders were, with some qualifications," Black says. "They all talked about how it is good for us as Christians to operate in a pluralistic context—it helps us to know what we believe, to be able to defend our faith, and to really live out its principles."
Black and Wear also found practical examples of churches and organizations participating in local and national bridge-building across racial, religious, socio-economic, and political divides. Black, who teaches a course on media and public opinion, says this finding challenges the media's perception that the most interesting stories about people of faith are rooted in national-level political or theological conflicts.
"Churches and other Christian organizations are doing very impressive, very meaningful work in their localities, and we don't hear about it," she says. "We saw lots of examples of Christian organizations working with local leaders to assess their needs, and then to come alongside them to help."
Their research also found a consensus around the importance of love for God and neighbor as motivators for acting in the public square.
"Almost everyone we talked to mentioned the Great Commandments, how important those are to the Christian tradition, and how, when we base our political activity on those commands, it bears good fruit," Black says.
While many of the findings highlighted strengths of Christian participation in political life, Black and Wear identified several areas of shared concern between research participants. For example, one theme was that the clergy are not sufficiently aware of the concerns and needs of the communities they serve. Leaders were also concerned that politics looms larger than it should when people think about faith.
In the final sections of the report, Black and Wear identify ways that churches, politicians and public leaders can support healthy pluralism and encourage positive Christian contributions to public life.
"We believe some of the most meaningful resources to help the nation thrive can be found in Christianity: its institutions, its ideas, its people, and the tenets of the faith itself," they conclude.
Black and Wear will discuss their findings and advise leaders on guiding their communities through the 2020 election season in a webinar hosted by the Billy Graham Center at Wheaton College March 17 at 12 p.m. CST. --LaTonya Taylor
Learn more about Wheaton's Politics and International Relations Department.